The Mater Private Hospital
23 Nov
It is not surprising that hospitals play such an essential role in our society, protecting our health and well-being.
The Challenge
The Mater Private in Cork has 102 in-patient beds and 6 operating theatres - it is a large, modern healthcare development, built at a cost of €90m. As a result of its excellent structure and the materials used in its build, phone signals were not able to penetrate the building. But what good is a vast, well-built, expensive building if mobile phone coverage is limited?
These were the exact thoughts of those at Mater Private, Cork, which is why they contacted Novatel for a solution!
The Solution
Novatel assessed the requirements of the Mater Private in Cork and recommended the Stella Doradus Repeater System as a solution to the lack of network within the hospital's grounds. In order to provide patients, visitors, and staff with constant access to the outside world through their mobile phones while inside the hospital grounds, Novatel supplied and installed the professional repeater system.
A key code security system was also installed; to gain access to parts of the building, you must receive a text message on your phone. This security system is now possible thanks to Novatel!
Additionally, the consultants were delighted to finally have mobile phone reception in their offices as well as the patients in the waiting room.
The Results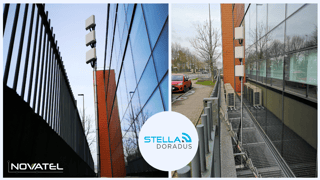 Seamless & Efficient Installation
Novatel carried out a very professional, efficient installation and once the system was installed, the full mobile signal was achieved in the areas of the hospital as directed by the client. The antenna system was expertly distributed by Novatel to ensure the signal was achieved in all required areas of the building.
Full signal in the hospital supporting all operators' network
The hospital went from no signal to full mobile signal, enabling all staff and visitors to communicate using their phones as well as utilise the security system in place.
Low Cost, Low Energy System
StellaDoradus Repeaters work as a passive DAS system so the repeater captures mobile signal from surrounding operator masts and distributes it throughout the building. The repeater unit uses the equivalent of a lightbulb to run, with the antennas using no energy. As the system requires virtually no energy to run it is a very sustainable solution to mobile signal problems. The system overall is very affordable and fully scalable, making the design adaptable to suit all budgets.
Project Scope
Installed Equipment: Stella Doradus - 3 repeaters and 12 internal antennas, 900/2100 Mhz office repeater system with the distributed internal antenna system
Building Type: Multi-Storey Hospital
Location: Cork, Ireland
Link
A video is up on YouTube for this installation project,