Elevating Mobile Connectivity at Colaiste Chiarain Croom
27 Jul
Colaiste Chiarain Croom, an established secondary school in Honeypound, Ballinamona, Co. Limerick, grappled with inadequate mobile phone reception. This dilemma not only interrupted day-to-day communication but also stifled the school's aspiration to foster a digitally-equipped educational environment.
The Novatel Consultation and Site Survey
Recognizing the need for robust connectivity for voice and data, the school turned to Novatel Communications, a renowned industry expert, known for its comprehensive solutions in telecommunication infrastructure. Novatel, armed with its expertise and dedication to customer satisfaction, stepped in to assess the situation.
The initial phase involved a meticulous site survey. This procedure is part of Novatel's signature consultation service, wherein trained professionals conduct a thorough onsite examination to gauge the problem at hand. Armed with sophisticated tools and industry knowledge, Novatel's team gathered in-depth data about the school's site, building structure, and current signal strength.
This data played a critical role in designing a fitting solution tailored to Colaiste Chiarain Croom's needs. Having years of experience in solving this critical mobile phone coverage problem in buildings, the Novatel team went straight to work in offering the school an immediate and long-term solution.
The Solution: The Design, Supply, Installation, and Commissioning of a Stella Doradus LGDWH-4P Repeater, and DAS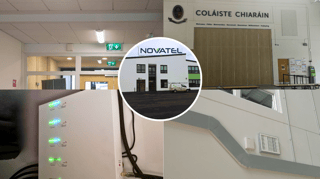 Novatel, through its rigorous site analysis, deduced that the most effective remedy was the implementation of an LGDWH-4P Repeater and Distributed Antenna System (DAS). The solution was a product of Stella Doradus who is not just one of the world's leading manufacturers of mobile phone repeater systems, but is also based in Waterford, Ireland. Their "Guaranteed Irish" products are recognized for their premium quality and are all ComReg approved, ensuring they meet all legal requirements for sale and installation in Ireland.
This choice was a strategic one. The Stella Doradus LGDWH-4P Repeater and DAS were designed to significantly amplify mobile phone signals, ensuring uninterrupted coverage across various networks throughout a vast area. Given the school's sprawling campus, this solution promised comprehensive coverage that would address the connectivity issues.
As a proud distribution partner of Stella Doradus for over five years, Novatel has confidence in the longevity and performance of these systems. Their robust construction is backed by a minimum three-year manufacturer's warranty, which can be extended up to five years or more on enterprise models. Moreover, Stella Doradus houses its service and warranty centre in Waterford, facilitating quick and efficient support when required.
Benefits to Colaiste Chiarain Croom
Post-installation, the school reported remarkable improvements in mobile phone reception across all networks, bolstering seamless communication and enabling a conducive environment for digital learning. Not only did the school experience an immediate resolution of the reception problem, but the installation also future-proofed the school's digital communications framework. With the fast-paced advancement in technology, it is paramount for educational institutions to stay ahead of the curve. The installation of the Stella Doradus mobile phone repeater system ensures the school's infrastructure is prepared to handle the increasing reliance on mobile communications.
The repeater system not only resolved immediate connectivity issues but also introduced an additional layer of security. Visitors to the school now utilise their mobile data for internet access, eliminating the need to share the school's Wi-Fi codes and further safeguarding the institution's digital infrastructure.
Moreover, the Stella Doradus mobile phone repeater system future-proofed the school's digital communications, preparing it for increasing reliance on mobile technology in the education sector.
Why Novatel?
This successful implementation at Colaiste Chiarain Croom reflects Novatel's dedication to providing bespoke, effective telecommunications solutions making it an ideal partner for such ventures. Its comprehensive consultation and site survey service ensure a customized, effective solution that directly addresses the problem.
Novatel designed a system not only fit for purpose but also within the budget available for the project. The professional team at Novatel designed, supplied, installed, and commissioned the entire project including a comprehensive cabling system. The installation was completed in less than 1 week, providing an efficient and professional turnkey solution.
Novatel's commitment to excellence, underscored by its association with Stella Doradus, assures the usage of premium, legal, and Irish-guaranteed products for enhancing cellular connectivity.
Conclusion
In conclusion, Novatel Communications' solution has revolutionized the way Colaiste Chiarain Croom interacts and engages, setting a strong foundation for the school's digital future. To learn more about how Novatel Communications can help enhance your connectivity, contact us today!