Garveys Supervalu Shopping Experience Optimised, Modernised, and Revolutionised
30 Jan
Garvey Group is one of Ireland's largest food retail groups, with locations throughout Munster including Kerry, Limerick, Cork, and Waterford.
Garvey's success has been achieved through the management team's vision, the skill and wholehearted commitment of all their employees, their commitment to achieving the highest standards in all of their businesses, and their ongoing support of the local communities they are proud to serve.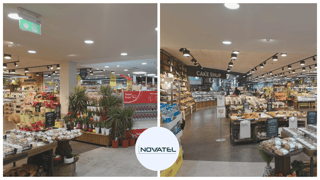 The Challenge
Garvey's SuperValu Cobh is located on the outskirts of the town in Tiknock Co Cork. This store has fantastic parking and huge shopping space. It offers a full range of scratch bakery, deli, meat and groceries with an excellent in-store delivery service.
There was just one service that was causing an issue for this store of excellence, and that was no mobile phone service within the store. This issue was a result of the building structure, the radio frequencies simply could not pass through the walls, and as a result, mobile phone handsets were not receiving adequate signals for even basic communications, like making and receiving a call.
Garveys Supervalu, having no signal in the shop, negatively affected everything from Apple & Google Pay to mobile data and phone signals, as well as the signal required for card machines. Customers would struggle to connect to the Supervalu app to use the amazing vouchers and coupons - Garveys did not want their customers to miss out, so they contacted Novatel for help!
Imagine being in a store and forgetting what you were to buy, or maybe you left your shopping list on the kitchen counter - you try to ring to find out what"s needed, but cannot make that call or send that text - what do you do?
The Solution
Novatel was there to provide Garveys Supervalu with a straightforward, efficient and excellent service from start to finish, providing the customer with amazing internet and phone signal.
The Results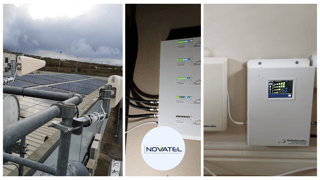 Seamless & Efficient Installation
Garveys Supervalu is a progressive thinker and had the foresight to provide communications solutions to everyone - staff, customers, reps, etc. Novatel carried out a very professional, efficient installation and once the system was installed, the full mobile signal was achieved.
Full signal supporting all operators' network
The shop went from no signal to a full mobile signal, enabling all staff, reps, and customers to communicate using their phones with ease. Garveys Supervalu"s shopping experience was completely optimised, modernised and revolutionized.
As well as that, the signal allowed for a boost of confidence amongst staff and customers alike, including company reps who did not have to worry about a dropped signal when trying to access their company portals.
The system provided by Novatel also allowed the inventory staff to record any stock changes in "live" time.
Low Cost, Low Energy System
Stella repeaters work as a passive DAS system so the repeater captures mobile signal from surrounding operator masts and distributes it throughout the building. The repeater uses the equivalent of a lightbulb to run, with the antennas using no energy. The system is very cheap and requires virtually no energy to run, making it a very sustainable & cost-effective solution to mobile signal problems.