Iconic Offices, Cork, NSQ2 - Creates The Best Flexible Workspace Offering In The Market
27 Jan
Leading flexible workspace provider in Ireland, Iconic Offices is passionate about developing cutting-edge workspace for forward-thinking businesses. They are an Irish-owned and -founded company that designs distinctive workspaces with first-rate service and IT that enable businesses to concentrate on their job and expand.
Workspaces range from 1 to 900 desks so you can rent a full floor for a global headquarters or a desk for the day.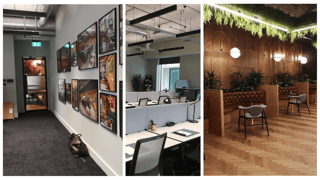 The Challenge
NSQ2 Iconic Cork, located in Navigation Square the largest office development in Cork, has a huge floor area of just over 18,000sq ft. For global and indigenous companies, NSQ2 provides an inspiring and creative environment for growth and success.
The building has been designed to meet LEED Gold standards, providing a healthy, efficient, carbon-free, and cost-saving green building. NSQ2, as a result, meets globally recognised sustainability targets and creates a healthier work environment.
However, the signal was unable to penetrate the walls of the state-of-the-art building: this meant no internet or phone signal once inside - a massive problem for a remote working hub!
With its warm interior creating a contrast with its glass exterior and glass facade, Todd Architects designed the concept of Iconic Cork, and it included dark woods, leathers, and natural stone materials to create a beautiful workspace lit with floor-to-ceiling windows and ambient lighting.
The Solution
Novatel assessed all of the requirements of the large office building and recommended the Stella Doradus Repeater solution to resolve the mobile signal problems within the building.
Using the Stella Design tool, the Novatel team expertly designed a repeater and distributed antenna system that matched perfectly to the seamless communications requirements of the Iconic office.
The Stella Doradus repeater system consisted of a mixture of repeaters and antennas that would enable signals throughout the offices and common areas, which included some of the following:
Phone boxes
Kitchenettes
Reception area
Private offices
A Podcast lounge
Integrated technology
Private meeting spaces
Recreational and lounge spaces
New York meeting/phone booths
Varied workspaces (co-working spaces, "hot desks")
Social / Collaboration spaces (to host community events with dropdown screens and projectors)
Novatel carried out a site survey to plan and troubleshoot installation prior to commencing work.
The Results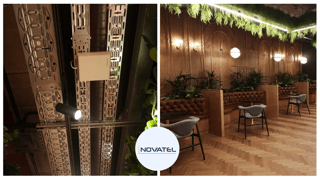 Seamless & Efficient Installation
Novatel carried out a very professional, efficient installation and once the system was installed, full mobile & internet signals were achieved.
Full Voice And Data Signal Supporting All Operators' Network
The office building went from no signal to a full mobile signal, enabling all staff and patrons to communicate using their phones hassle-free. Imagine carrying on your business as usual and not having to worry about missed or dropped calls and buffering connectivity!
Low Cost, Low Energy System
StellaDoradus Mobile Signal Rpeaters work as a passive DAS system so the repeater captures mobile signal from surrounding operator masts and distributes it throughout the building. The repeater uses the equivalent of a lightbulb to run, with the antennas using no energy. The system is very cheap and requires virtually no energy to run, making it a very sustainable & cost-effective solution to mobile signal problems. This ties in with Iconic's strive for being an energy-efficient company.
And On A Final Note
Iconic Offices founder and CEO, Joe McGinley, said the plan was to "prove ourselves in the Cork market and to leverage off that to build our offering in the city… hopefully at an additional, larger location… we'll be looking to expand our footprint in Cork as soon as possible, and we'll be looking at the very high end of the market" so watch this space!