StellaDoradus 900MHz Frequency Band Signal Repeater Kit (SD-RP1002-G-15MSD240-YGI)
Stock:

In Stock

Brand: StellaDoradus
Model:

SD-RP1002-G-15MSD240-YGI

Weight:

0.60kg

Dimensions:

16.00cm x 15.00cm x 3.50cm

MPN:

SD-RP1002-G
Single Band: 900MHz
The RP-G repeater is a remarkable device that amplifies voice signal @ 900MHz inside your home or small-office (2100MHz is used for voice in some rural regions of Ireland - so do a FIELD TEST to know which one you're currently on). It can cover up to 4 rooms and multiple users can simultaneously use and benefit from it.
NOTE: To know what specific frequency you're on, you need to do a FIELD TEST - follow the steps for "Field Test For 3G". Yes, follow the steps on that section, even you're testing for voice frequency. You're either on 900MHz or 2100MHz, so you need to find which one.

If you're on 900MHz, then get the SD-RP1002-G.

If you're on 2100MHz, then get the SD-RP1002-W.

When testing, you need to be up high (eg. on your roof) to get better signal, and turn off Cellular Data temporarily from your phone's settings, since you're testing on voice signal frequency. You can turn it back on once done.
These are ComReg approved repeaters, and buying one is the best way of improving your phone's signal.
In Ireland, the three GSM Network infrastructure owning networks are; Eir Mobile, Vodafone Ireland and Three Ireland.
In case one of them is your favourite but you're on a certain area where signal is too weak for a clear and uninterrupted voice call, then the only and guaranteed solution will be to install one of StellaDoradus' GSM Mobile Phone Signal Repeater.
Order the RP-G Repeater Kit today and say good bye to choppy voice calls. This is a GSM signal booster for mobile phones. It works on all network broadcasting under the 900MHz frequency band. When using indoor, the boosted signal can cover around 4-rooms, and not only limited to a single user or phone. It's good to have this in homes where signal is too weak to go through thick walls and reach basement or attics.
Other Repeater Model
The RP-G is a single indoor-antenna model, if you want to cover more areas, rooms, building floor, then we highly recommend that you check on the RP-G-4P model. It's a repeater that boosts voice calls signal for large installations like multi-storey buildings.
Other models also available:
SD-RP-1002-GW: GSM (Voice) + 3G
SD-RP-1002-GD: GSM (Voice) + 4G (1800MHz)
SD-RP-1002-LG: GSM (Voice) + 4G (800MHz)
SD-RP-1002-GDW: GSM (Voice) + 3G + 4G (1800MHz)
SD-RP-1002-LGW: GSM (Voice) + 3G + 4G (800MHz)
SD-RP-1002-LGDWH: GSM (Voice) + 3G + 4G (800MHz / 1800MHz / 2600MHz)
SD-RP-1002-G: A Mobile Phone Signal Booster for GSM
Quick Features
Frequency: 900Mhz
Manufactured in Ireland
Legal and fully EU compliant
Works with all Irish Mobile Operators
Everything included for complete installation
Coverage: ~4 rooms
No Sim card required, no extra bills
How It Works?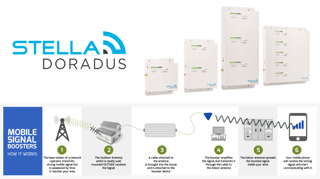 The SD-RP-1002-G is ideal in providing strong and wider GSM signal coverage in your home or small office.
As long as there is signal outside your house/office, this device will work and can amplify the signal it receives and re-transmit the signal throughout your house or any target area. It can cover around 4 rooms.
For the repeater to work you must have at least 1 bar signal bar outside your house on your phone.
What's In The Box?
This product comes ask kit, in the box you'll fine the signal amplifier, two panel antennas - one for indoor (transmitter antenna) and one for outdoor (receiver antenna), cable set for connecting the antennas, power supply and user's manual.
What is GSM?
GSM (Global System for Mobile communication) is a digital mobile network that is widely used by mobile phone users in Ireland, Europe and other parts of the world.

GSM uses a variation of TDMA and is the most widely used of the three digital wireless telephony technologies: TDMA, GSM and code-division multiple access (CDMA). GSM digitizes and compresses data, then sends it down a channel with two other streams of user data, each in its own time slot. It operates at either the 900 megahertz (MHz) or 1,800 MHz frequency band.

GSM, together with other technologies, is part of the evolution of wireless mobile telecommunications that includes High-Speed Circuit-Switched Data (HSCSD), General Packet Radio Service (GPRS), Enhanced Data GSM Environment (EDGE) and Universal Mobile Telecommunications Service (UMTS).
What is a Mobile Phone Signal Repeater?
A mobile phone signal repeater receives a weak signal, amplifies and re-transmit the signal to a target area, using either an indoor or outdoor antenna transmitter. Often, the terms "booster" and "repeater" are used interchangeably. These two are entirely different. A booster only amplify the signal and re-transmits, while a repeater on top of signal amplification will filter the signal and bring in some interference control magic to provide better coexistence with other spectrum users.
Signal Repeater is the way to go if you want to boost your mobile phone signal. It's safe and legal, unlike those cheap Chinese-made boosters that you can fine on the Internet.
What Are the Things I Need To Know Before Buying?
Before buying your first GSM Signal Repeater Kit, make sure and take note of the signal frequency you are receiving in your area. GSM uses 900MHz frequency band, but some mobile network provider transmits their signal at 900 or 1800 MHz or both. So make sure you have taken note of the details.
You can read more info from the following pages:
Still not sure what booster to buy? Don't fret, you can contact us and we'll install a booster kit for you. We're not just a seller, we're also StellaDoradus' official signal booster installer in Ireland.
How To Install The StellaDoradus SD-RP1002-G Signal Booster Kit
To install the SD-RP1002-G booster kit, follow the simple steps below.
Step-by-Step Installation
---
Install the outdoor antenna in a place where you know you have reasonable signal, like your roof or mast.
Run the cable down inside your house to the booster device and connect it. A 12 meter cable length should be the maximum for optimal performance.
Attach the outdoor antenna cable the indoor panel antenna to the repeater.
Plug in the power to the booster device.
You're done!
There are smartphone apps available that you can use to exactly point your receiver antenna to the nearest network operator's mast.
We recommend the OpenSignal app for both iPhone and Android.
NOTE: The external receiver antenna has an LED light signal strength indicator. Please refer to the YouTube below on how to use.
Technical Specifications
The data table below is the SD-RP1002-G Repeater full technical specification.
Frequency Specifications
Frequency Bands (Mhz)
880-960MHz
Coverage
1000m2 (open space)
Number of Users
Unlimited
Gain
Uplink Gp > 50dB
Downlink Gp > 60dB
Pass Band Ripple
< 4dB
I/O Impedance
50 ohm/SMA female connector
Max Uplink/Downlink Signal Strength
17dBm / 10dBm
Ambient Temperature
-30°C to +70°C
Power Supply Input
110 - 240V AC
Power Supply Output
12v DC
Oscillation Control
Automatic
Level Control
Automatic*
Uplink Switch Off
Yes**
AGC Range
30dB
Surge Protection
connectors DC grounded, 12V DC port MOV protected
Antenna Specifications
Nominal Gain
6.4dBi / 9.4dBi
3dB Beam Pattern
60° x 60°
Bandwidth
790-960MHz + 1710-2700MHz
VSWR
< 1.4
Front to Back Ratio
> 20dB
Polarization
Vertical
Power Rating
50W
Impedance
50-OHM
Termination
SMA Male
Cross Pol. Discrimination
-20dB
Dimensions
210 x 180 x 43mm
Weight
0.68kg
Wind Velocity
126km/hr
Working Temperature
-40°C to +65°C
Power Supply Specification
AC
100-240V 50-60Hz
DC Input
12V 0.5A
Typical Power Usage
6W
Mechanical Specification
Length
16cm
Width
15cm
Depth
3.5cm
Weight
0.6kg
Mounting
4 x 5mm holes for mounting
Note: Specifications subject to change without notice.
How & Where to Buy?
To buy the SD-RP1002-G GSM Voice Signal Booster, you can drop by our store (by appointment only) located at Novatel Communications, Main Street, Buttevant, Co. Cork P51 K066.
To purchase online, simply click on the Add to Cart button, and then go through the fast, easy and secure checkout process. Payment is provided for your convenience via Stripe Payment Gateway. You can use any card supported by it (MasterCard, Visa, American Express, Diners, and more...).
How Will My Order Be Delivered?
Your order(s) will be shipped via express delivery and are normally delivered within 1-4 business days. Your order will be dispatched directly from our warehouse and you will be provided a tracking information for your order, after it is dispatched. If you have any questions on your order status, please contact us.
Downloads