Teltonika TeltoCharge: Electric Vehicle Charger On Your Wall
Stock:

In Stock

Brand: Teltonika Networks
Model:

TeltoCharge

Weight:

2.80kg

Dimensions:

94.00mm x 170.00mm x 341.00mm

MPN:

TeltoCharge
With their Smart TelcoCharge Unit, Teltonika, a major producer of networking hardware for telecoms, has lately entered the market for recharging electric vehicles. Three power levels (7.4kW, 11kW, and 22kW) and five color options are offered for the TelcoCharge.
The TelcoCharge is an excellent product that combines functionality, premium looks, high-quality build, and smart EV charging capabilities to save you time and money. It is a premium quality, highly customisable, and simple-to-use EV charging solution.
You can connect the Teltocharge to any smart device by Wi-Fi/Bluetooth or GSM to control it remotely, and it can charge your electric vehicle with up to 22 kW of electricity. Additionally, it works with all current and upcoming plug-in hybrids and electric vehicles.
Notable Features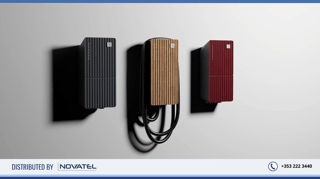 Customisable: Premium design with a wide range of setup choices.
3-Year Warranty: Built tough and dependable to resist even the worst weather conditions.
Connectivity and Charging Status: Dynamic LED lights show the state of charging, connectivity, and power.
Warranty: With a three-year warranty, you may use TeltoCharge to your best potential without any worries.
Teltonika Energy APP: To conveniently manage your EV charger, connect it to your mobile device using the Teltonika Energy APP.
Smart Mobile App: Smart EV charging features and innovative functional solutions are available through the Teltonika Energy app.
Quick, Easy, and Secure EV Charging: To avoid any unauthorized use, quick and simple EV charging authentication using an NFC card or app is required.
You can learn more about the Teltonika TeltoCharge from this manufacturer's product page.
YouTube Video Presentation
How do I install TeltoCharge?
Prepare the required tools and mounting parts. You will need a hammer, an electric drill, a pencil, a level, a screwdriver, a wire stripper, and a torque wrench. You will also need four screws and four wall plugs that are included in the package.

Drill four holes on the wall according to the dimensions shown in the installation manual. Use the level to make sure the holes are aligned. Insert the wall plugs into the holes and hammer them until they are flush with the wall.

Connect the power cable to the TeltoCharge housing according to the wiring diagram shown in the installation manual. Make sure the cable is securely fastened and insulated. Use a torque wrench to tighten the screws to the specified torque values.

Hang the EV Charger housing on the wall using the four screws. Make sure the housing is firmly attached and leveled.

Attach the front plate cover to the TeltoCharge housing using the four screws provided. Make sure the cover is properly aligned and sealed.

Download and install the Teltonika Energy app on your smartphone. The app is necessary to access and manage the smart features of your EV charger.

Scan the QR code on your TeltoCharge device using your smartphone camera. The app will automatically connect to your TeltoCharge device via Wi-Fi or Bluetooth.

Follow the instructions on the app to set up your TeltoCharge device. You will need to enter your personal information, choose your preferred language, select your charging mode, configure your Wi-Fi or GSM connection, and pair your NFC card if you have one.

Test your charger device by plugging in your EV and starting a charging session. The app will show you the status of your charger and your EV battery level. The LED lights on your TeltoCharge device will also indicate the power, connectivity, and charging status.
How & Where to Buy?
To buy the Teltonika TeltoCharge EV Charger, you can drop by (requires prior appointment) our store located at Novatel Communications, Main St, Buttevant, Co. Cork, P51 K066, Ireland.
To order online, simply click on the Add to Cart button, and then go through the fast, easy, and secure checkout process. Payment is provided for your convenience via Authipay Payment Gateway. You can use any supported cards (MasterCard, Visa, etc).
How Will My Order Be Delivered?
Your order(s) will be shipped via express delivery and are typically delivered within 1-4 business days. Your order will be dispatched directly from our warehouse and you will be provided a piece of tracking information for your order after it is dispatched. If you have any questions about your order status, please contact us.