StellaDoradus StellaOffice Quint Band Mobile Phone Signal Repeater Kit For Office Use – Boosts Voice/SMS 4GLTESignal In Buildings & Offices
Guaranteed Irish
NCL is proud to offer the Stella Doradus Signal Repeater (ComReg Approved and Easy to Set Up). Not only are we 100% Irish (Manufactured in Waterford), but our repeaters come with a 3-year warranty.
Stock:

In Stock

Brand: StellaDoradus
Model:

SD-RP1002-XXXX-4P

Weight:

0.60kg

Dimensions:

16.00cm x 15.00cm x 3.50cm

MPN:

SD-RP1002-XXXX-4P
Quint Band Support (in MHz): 700 / 800 / 900 1800 / 2100 (SD-RP1002-VLGDW-4), and 800 / 900 / 1800 / 2100 / 2600 (SD-RP1002-LGDWH-4)
The StellaDoradus Quint-Band Office Mobile Repeater is a cellular repeater system that you would need if you are looking to boost your cellular signal inside your home or small office. It will amplify weak signals outside your house, and re-transmit the filtered and amplified signal to your designated target area. The indoor antenna of this device acts as a mini cellphone tower inside your home.
It's excellent in boosting Voice/Calls (GSM), 3G, and 4G at (800MHz or 1800MHz), all at the same time. There is no limit to how many people or devices can simultaneously use the system.
Can work as a Vodafone Signal Booster, and also on other mobile network operators like; 3 Ireland, Meteor, Tesco, EIR, and other mobile operators in Ireland, Europe, and the rest of the world.
Quint-Band Repeater Kit Features
Provides GSM, 3G, and 4G
Frequencies (depends on which model you choose):

700 / 800 / 900 1800 / 2100 (SD-RP1002-VLGDW-4P)
800 / 900 / 1800 / 2100 / 2600 (SD-RP1002-LGDWH-4)

Boosts Multiple Bands on all mobile operators
Manufactured & Legal to Use in Ireland
CE and fully EU compliant
Everything included for complete installation
Coverage: ~4 rooms
No Sim card is required, and no extra bills
How The System Works
So This Is How It Basically Works:
The outdoor antenna receives the weak signal and takes it in through a coaxial cable to the booster device.

The booster device will do its thing and filters the amplified signal and put in some interference control magic.

The clean signal now is re-transmitted via the indoor antenna, to the target area. Mobile phones and laptops in this area can then communicate with this improved signal.The signal can reach an area of up to 4-rooms.
What's In The Box?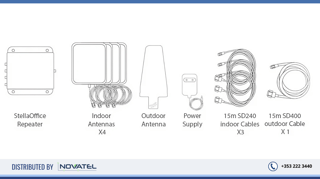 Depending on what you have chosen from the Cart Options, This product can come as Standard Kit (includes everything you need for standard installation) or Repeater + PSU Only (just the repeater unit, and the power supply, not including the antennas and cables), in the box you'll find the following:
1x Quint-Band Mobile Signal Amplifier Unit
1x Yagi Outdoor Antenna with 15m SD400 Coax Cable
4x Panel Indoor Antennas
3x 12m SD240 cable set for connecting the indoor antennas to the repeater unit
Power Supply Unit
User's Manual
Note: The indoor antenna could be an omni-directional antenna or directional panel antenna. You can contact us for a bespoke solution that will best suit your requirements.

Mobile Phone Signal Repeater Kit for Domestic Use: What To Expect In Your Purchase
How to Buy This Quint Band Office Mobile Signal Repeater System
Simply add the model you want to cart, and proceed to checkout, or you can call us to order using this number - +353 222 3440, or use the Add to Cart button on this page and go through the secured, easy and fast checkout process.
You can pay using your Credit Card via the Secured AIB Payment Gateway.
Optionally, you can drop by our physical store located at Novatel Communications, Main St, Buttevant, Co. Cork, P51 K066, Ireland.
How Will My Order Be Delivered?
All orders are shipped via express delivery and are normally delivered within 1-4 business days. Your order will be dispatched directly from our warehouse and you will be provided a tracking information for your order, after it is dispatched. If you have any questions on your order status, please contact us.