Mobile Phone Signal Repeater Kits For All Networks
Do you live in a location where your mobile phone signal is too weak for normal, hassle-free use? Or where 3G or 4G Signal barely registers on your phone when you are in the building? Well, you're in luck! We have the solution and all you have to do is buy and install one of our repeater kits. Install one in your home or office and you'll get stellar signal quality in no time!
Find one that matches your network's frequency band and network type. You can choose between the single band (e.g. GSM Voice/SMS only or LTE only) or the multi-band kits (i.e. GSM + LTE).
Our signal repeaters for mobile phones (also called signal boosters by others - which are not) are designed and manufactured by StellaDoradus. StellaDoradus is a company based in Waterford, Ireland. They manufacture cellular and WIFI antennas for the EU and USA markets. The company also designs and manufactures mobile phone repeaters that meet EU standards. All SD products are fully compliant with European R.E.D regulations and passed all E.S.T.I test, making it safe and legal to use in Ireland, the UK, and the rest of Europe.
We stock various models and you have several options to choose from, ready to be shipped. You can choose kits for 3G, 4G, and LTE, as well as for Calls/SMS applications.
You can purchase single, dual, triple, or quint band repeaters for any mobile network you want to use them with. With the multi-band kits, you can choose which combo to purchase. Like; as GSM/Voice + 3G Data Kit, Voice + LTE Kit, LTE 800MHz + LTE 2600MHz, or just plain 4G/LTE only. Read further below, to learn more.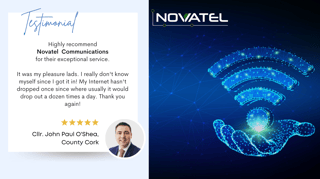 Quick Access Links
---
Signal Repeater Kits for Homes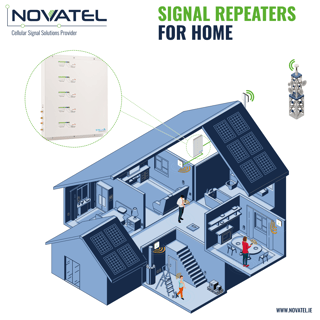 The Following Products Come as Kits (Repeater, Cable, Receiver & Internal Antenna, Power Supply)
Signal Repeater Kits for Offices & Large Installations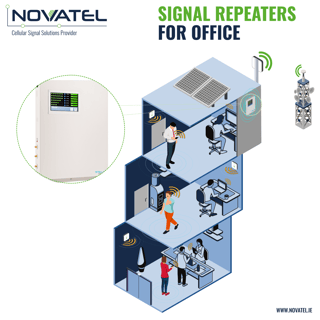 The Following Products Comes as Kits (Repeater, Cable, Receiver & Internal Antenna, Power Supply)
---
How it Works
The antenna on your roof receives a mobile signal from all networks and sends it down the cable to the repeater.
The StellaDoradus device amplifies this signal in both directions and sends it around your house.
All your devices can now communicate with this enhanced signal.
Device Overview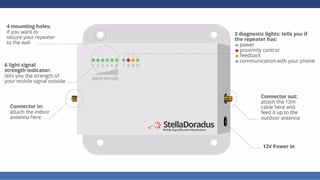 4 mounting holes, to mount your device to a wall.

4 diagnostic lights, to tell you if the repeater has:

power

proximity control

feedback

communication with your phone

6 light signal strength indicator, to tell you the strength of your mobile signal from the outside.

Connector in, to attach the indoor antenna.

Connector out, to attach the 12m cable and feed it up to the outdoor antenna.

12V Power in.
Difference Between a Signal Booster and a Signal Repeater
You might be asking "what is the difference between a booster and a repeater?"
In layman's terms, they could mean no difference, and they could be used interchangeably.
But, with regard to technical differences; a booster simply amplifies a signal it receives and re-transmits it within an area. No filtering or interference control is happening in the such device and often causes interference to the mobile provider's networks. These devices often come cheap and are usually sourced from Chinese online marketplaces, and do not meet European Standards.
If you're looking to amplify your cellphone signal legally, what you should look for is a Signal Repeater. One that meets EU standards and ComReg approved.
Devices that do not meet European Standards and technical conditions will remain illegal under the Wireless Telegraphy Act 1926 to 2009.
Beware: You could get yourself in trouble when using such devices. How so? Because mobile operators detects and searches for illegal interferences and when they did, they then contact the Communications regulator, the regulator must then find the source of the interference which is often very costly. When found, the repeater will be confiscated, and the user may be fined.
Signal Repeater, on the other hand, doesn't only receive weak signals and re-transmits, it also includes interference control and filtering, thereby, allowing other spectrum users to coexist. These devices passed a series of sophisticated radio frequency tests (E.T.S.I standard) and meet the required European standards to bear the CE Mark.
CE Mark: CE marking is a certification mark that indicates conformity with health, safety, and environmental protection standards for products sold within the European Economic Area (EEA). The CE marking is also found on products sold outside the EEA that are manufactured in, or designed to be sold in, the EEA.
So, if you're searching for a booster device that can be used legally in Ireland, the UK, or any country in Europe, then Signal Repeater is what you should look for. But not just a repeater, it should meet the technical conditions that Mobile Phone Repeaters must comply with, to be permitted.
You should look for StellaDoradus devices. These devices meet several technical conditions, that make them ComReg-approved Mobile Phone Repeaters. -- Read: ComReg has permitted the use of Mobile Phone Repeaters
Are Signal Boosters or Repeaters Legal in Ireland?
As of June 2018, ComReg had reached a resolution after consideration, to permit the use of Mobile Phone Repeaters. The main consideration was to help improve the mobile user experience of households and businesses in rural areas.
However, not all devices shall be considered legal and permitted in Ireland. Such devices shall meet several technical conditions and must pass several tests. The technical conditions aim to provide consumers with better indoor coverage while protecting Mobile Network Operators from unwanted interference.
If interested, you can read the full document here.
Are StellaDoradus Devices Legal?
The short answer is, YES!
ComReg had set technical conditions to be met, in order for a repeater to be considered legal. And the best part is, SD repeaters have met all these conditions, thus, making it legally compliant. SD devices comply with EU standards and do not cause interference on any Mobile Operator's Network. All their devices have enhanced features that passed all the required European Radio Equipment Directives (RED) and a series of sophisticated radio frequency tests (E.T.S.I standard).
In addition, there is no need for mobile operator permission for the use of Stelladoradus repeaters in Ireland, because it has complete operator protection for; feedback detection, AGC adjustment, Uplink switch off, and Base station proximity aware feature. As declared in their most recent " Declaration of Conformity" document - stating that all essential radio test suites have been carried out and that the above-named products are in conformity with all the essential requirements of the 2014/53/EU RED Directives.
---
Click here, if you want to know more about ComReg-compliant devices, suppliers, and installers.
NOTE: Novatel Communications is one of the leading mobile signal repeater installers in Cork, Limerick and Tipperary. Also a well-known distributor of StellaDoradus Repeaters and Accessories.
StellaDoradus Repeater Kits - Works On All Known Mobile Operators In Ireland & EU
SD repeater is known to work with the following mobile network operators in Ireland, which are; Vodafone, Meteor, and Three, and would work too on any known networks in the UK, Europe, and the world.
SD repeaters come as Kits which makes them very easy to install. Each kit includes; the Repeater box, Cable, Receiver & Internal Antenna, Power Supply, and User/Installation Manual. Works on any known mobile operators in Ireland (3, Meteor, Vodafone), the UK, the rest of Europe, and the world. Make sure you know specifically, what signal frequencies you are receiving in your area. You need that info so you can match it to the frequency supported by each model.
Major Mobile Network Operators in Ireland
Vodafone Ireland
Vodafone Ireland Limited - formerly Eircell, is owned by Vodafone Group. According to Wikipedia, it is the largest mobile phone operator in Ireland, when it comes to active subscribers. The company provides voice and mobile data services using a GSM 900/1800 network and a 3G UMTS 900/2100 network capable of offering a range of high-speed Internet services including DC-HSPA+, which can deliver up to 43.2Mbit/s (theoretically). The company offers a 4G connection (launched in October 2013) with 150GB data for €45 a month plan - at the time of writing.
Vodafone Ireland operates under 4G/LTE/LTE-A Frequency band 800/1800MHz. Our 4G signal repeater kits (SD-RP-1002-L and SD-RP-1002-D model) will work on their network, safe and legal.
Three Ireland
Three Ireland (Hutchison) Limited or formerly known as Hutchison 3G Ireland Ltd, is another Telecom and ISP operating in Ireland under the brand name Three - stylized as "3". According to Wikipedia, the company launched in July 2005, and its former holding company (Hutchison Whampoa) acquired O2 Ireland in June 2013. The company provides voice, 3G, 4G, and 4G+/LTE Advance mobile phone services in Ireland.
3 operates under 4G/LTE Frequency band 800/1800MHz. Depending on your signal received, you can either use SD-RP-1002-L or SD-RP-1002-D kits to improve your signal reception inside your home or office.
Meteor Mobile Communications Limited
The now-defunct Meteor - was one of the first to launch (on September 26, 2013) 4G LTE services in Ireland, and was merged into Eir Mobile on September 2017. They provided GSM/GPRS/EDGE/UMTS(HSPA+) and LTE cellular communications network under license from ComReg.
Meteor operates under the frequency band 800/1800MHz LTE. You can either use SD-RP-1002-L, SD-RP-1002-D, or the SD-RP-1002-LGDWH model (which will work on 800, 1800, and 2600 4G frequency bands) to make your 4G signal strong, even inside your home or office.
Eir (telecommunications)
Eir Group plc., trading as Eir, is a fixed, mobile and broadband telecommunications company in Ireland, and a former state-owned monopoly, which is currently incorporated in Jersey. It is the largest telecommunications operator in the Republic, with a division to service the business and corporate telecom markets in Northern Ireland and Britain. As Bord Telecom Éireann, the company was state-owned until 1999, when it was floated on the Irish and New York Stock Exchanges.

Eir operates the fixed-line telephone network, an LTE (4G), HSDPA (3G) and GSM/EDGE (2.75G) mobile telephone network Eir Mobile and acts as an internet service provider (ISP) eircom.net. As of Q1 2013, Eircom had 54% market share of fixed voice lines; 40% market share of fixed broadband; 11% of mobile broadband; and 17% of mobile.[3] By late 2007 Eircom added their 500,000th DSL subscriber but broadband share may have fallen to 44% due to growth of fixed wireless, cable and fibre services.
Eir - the rebranded Meteor, operates at GSM 900MHz and 1800MHz frequency bands. So if you're looking to improve your GSM signal for this network, then StellaDoradus Model SD-RP-1002-GD would be the best signal repeater kit to use. You can use it indoors or outdoors, setup is fast and easy.
4G LTE Repeater Kits
Mobile network operators like Vodafone, Meteor, or Three transmits 4G LTE signal via 800MHz or 1800MHz frequency bands. You need to know which frequencies you are receiving in your area where you want to improve mobile signal reception. Once you know what frequency you're receiving, grab one of our 4G/LTE kits that match or support the frequency being received, and install.
Installation is dead simple and easy, user/installation guide is included in the box.
4G LTE Repeater Kits for Homes
Our Home Repeater Kits can cover an area of 900m2 of open space. Practically, this is roughly equivalent to 4-rooms in a typical building layout.
Walls and insulation can affect the coverage within your house or office and can reduce the signal coverage. However, wide open internal spaces allow an increase in coverage.
3G Data Signal Repeater Kits
3G usually transmits at either 900MHz or 2100MHz frequency bands, and mobile operators like Vodafone, Meteor or Three uses these frequencies to provide 3G Signal to their customers. If you have issues receiving the 3G signal in your area, then grab one of StellaDoradus 3G repeater kits and enjoy a high-speed Internet connection.
You can choose a single-band repeater unit like; 3G Data only, and 3G Data with Calls/SMS (GSM). Or, depending on your needs, you can also buy Dual or Quint Band that can support more than one network type and signal frequencies. For instance, 3G + LTE or GSM (Calls/SMS) + 3G + LTE kit.
GSM Repeater Kits
Order one of our signal amplifier kits for GSM (Calls/SMS) and say goodbye to dropped calls. In Ireland, GSM is usually on 900MHz frequency, and known Irish Mobile Operators like Vodafone, Meteor, or Three use this frequency to provide GSM Voice signals to their subscribers. Use one of our kits, they are guaranteed to work with the above-mentioned Operators.
Where To Buy?
If you're somewhere near Buttevant, you can order the kit by phone call and simply book a store pickup from our physical store located at 12 Main Street, Buttevant. Or you can order online, we ship nationwide, and we can deliver your orders straight to your doorstep. You can order by just clicking on the "Add to Cart" button. Then go through the checkout process, and pay securely with your credit card via the Stripe, or AIB Authipay payment gateway and we'll dispatch your order within 36 hours.
We ship nationwide and to the rest of Europe.
How To Buy The Kit?
To buy the model you need, visit the product page and add it to your cart (just click on the "Add to Cart" button). Then go through the checkout process. You can pay using any credit card supported by AIB Authipay Payment Gateway.
Or, you can call us to order. Just dial this number +353 22 23440 to order.
Credit Cards Accepted By AIB Authipay
Primarily, we use the AIB Authipay gateway to accept payments. So the info below may come in handy when you order one.
Order Using:
Google Pay
Apple Pay
Visa
MasterCard
American Express
JCB
Discover
and Diners Club
We ship to Ireland, the UK, and throughout Europe.
---
What Our Customers Are Saying
---
Don't just believe us, hear from some of the people who actually used our products and service.
The following people voluntarily gave their feedback regarding our mobile phone repeater kits, which are ComReg-approved and legal to use in Ireland.
By Cllr. John Paul O'Shea
I want to say a big thanks to Sharon and the team at Novatel Buttevant for providing me with much-improved broadband over the last few weeks.
As we wait for the rollout of the National Broadband Plan, there are options there for you.
I had 3MB before this and now over 30MB. It has made a huge difference!
Highly recommend Novatel Communications for their exceptional service.
It was my pleasure lads. I really don't know myself since I got it in! My Internet hasn't dropped once since where usually it would drop out a dozen times a day. Thank you again!
Cllr. John Paul O'Shea, County Cork (08-19-2022)
---
By John Cleere
Genuine service!
First of all, someone (Sharon) answered the phone immediately: Do you know how rare that is these days?
I had access to all the sales info and pricing up front, and there was an engineer (Frank) that came on the phone for any tech information that was needed.
There and then, they went online, checked my house location (via eircode) found the nearest appropriate telephone mast, sent me a map of where the mast is so I could check line of sight, and I was sorted, all in ten minutes.
You see, this is the type of both friendly and professional service that people would pay for without hesitation.
By John Cleere, Enniskerry (08-18-2022)
---
By F. Murphy
Since I moved to the cottage here in the Wicklow mountains several years ago I have struggled with a very poor mobile phone signal. I have just had Novatel install a StellaDoradus GSM Repeater System and I am delighted with the improved quality of my phone signal and the very neat installation of the system. For the first time, I am now able to make and receive mobile calls in the house as before I needed to go outside to use my mobile phone. Also, the quality of the signal is now crystal clear and much better than before when I needed to go outside as even then my calls would often be dropped - but that is all now a thing of the past. It has been a pleasure dealing with Novatel Communications and the quality of their service and installation has been excellent and friendly.
I selected the StellaDoradus system as it was very important to me to have a high-quality product, made in Ireland that is Comreg approved and StellaDoradus ticked all the boxes for me.
My thanks to Novatel Communications for all their help through the process of the selection to the installation of this system.
F. Murphy - Wicklow (08-04-2020)
By Bernadette
Hi Niamh! Got the parcel and installed it. It is fantastic - we have great 3G coverage in the house now. I have forwarded your name and company name to 4 people.
Bernadette Donegal (07-28-2020)
By Janet
Just to say a big thank you. The repeater has transformed the phone reception!
Janet (07-16-20-20)
By Declan Boles
Frank and Niamh are so professional, they listen to what you want, and they understand their customer. I have dealt with them over the years and always got a first-class service.
By Daniel F. (Ballinvuskig West, Mourneabbey Co. Cork)
24 October 2019 - We are writing this letter of recommendation for Novatel with our highest appreciation and regards. Novatel was knowledgeable and professional from the first call through installation and follow-up.
When we moved into our new rural home in Co. Cork, we discovered that while there was cellular service in the front yard, due to our home's construction and the location we were unable to get signal within the home. One call to Novatel and they were able to provide accurate information and, most importantly, multiple solution options for us to choose from. They were prompt and exceeding professional (and friendly) at installation. The installation was neat and tidy - but most importantly, it was efficient and accomplished our goal, and provided us with a consistent 4 bars of cellular signal strength throughout our home on the two different cellular providers we utilize (a far cry from the zero bars on both providers before the installation).
For anyone who is having difficulty in getting cellular service inside their home, I can strongly recommend Novatel (and specifically Niamh and Frank). -- Daniel F.
By Soren Marl
Niamh and her team were always on hand for all questions and eventualities including organising overnight delivery to ensure that the antenna cable was installed in time for our external insulation. 5-stars all round! An absolute pleasure to deal with.
By Lorna (Co. Cork)
Niamh, you have been a pleasure to deal with from the start of the process to the finish, from our initial phone conversation to purchase prices and following on to install, I cannot find fault. I also have to send Frank praise for his professionalism and detail to attention on site. I would strongly recommend your company.
By Rolstan Ltd.
Many thanks for a great job, it has sorted out my phone coverage problem. Excellent, fast, and reliable service.
By Harold Hurenkamp (West Cork)
We never had any phone and internet reception in the house. After a lot of researching on the internet, we chose Novatel Communications to fix our connection problem and we are not sorry we did. Niamh and Frank were very helpful and responsive in solving our small installation problems. Now we can phone and have a steady Internet signal in the house. We would recommend them to anyone - By Harold Hurenkamp
By John McGuirk and Orla Fleming (Tipperary)
We moved to a new house in rural Ireland, which was always our dream. Unfortunately, we couldn't get broadband, and the house had zero mobile phone signal inside. We looked everywhere for a signal enhancement solution, but couldn't find something that would work for us until by chance, somebody recommended Novatel. Niamh and Frank were incredibly understanding, easy to deal with, and kept their promises. Now we have very decent wireless broadband that is more than enough for what we need, and they installed a solution that gives us 4G mobile coverage throughout our home. Novatel have made a huge difference, when nobody else could. I would recommend them to anyone in a similar situation. They are lovely people and consummate professionals.
By Volker
Before I bought this device I had to go to the far end of my garden to make a phone call. Now I can sit relaxed on the sofa and talk to people on the phone, having full gsm coverage in the house. I decided to go with the voice-only option (SD-RP-1002-G) as the Internet is provided by Wifi in good quality and on 900 MHz all Irish phone networks are covered. Thanks, Novatel for answering all my questions!
By Tracey O'Driscoll
After moving into a house in a very rural area we were dismayed to discover we could not get any WiFi from any of the main providers (Three, Vodafone, Meteor, etc). We also had no signal reception or any sort of mobile internet. We were recommended to try Novatel so we got in touch and Frank called out to us. We looked into getting satellite internet but again this was not available as we are in a black spot. Frank suggested we get a Stelladoradus repeater unit which would improve our mobile phone & data reception in the house. He spent 3 hours here to ensure he could get us the best signal. We now have phone reception and internet on our phones, it's like being in a new house! I could not recommend Novatel highly enough, I had rung so many companies and been told there was nothing they could do, Novatel was a godsend, especially Frank, he had such patience and knowledge, I can't thank him enough. Niamh in the office was also a delight to deal with, so friendly and professional. If in doubt take my advice and go with Novatel you won't regret it!
By Michael and Louise
Mobile Phone Signal Boosters Works! We went from no phone coverage inside our house to 5 bars, that's amazing!. Excellent service from start to finish. Niamh and Frank were very informative, helpful, and professional. Thanks Again!
By Daniel (Kilkenny)
We had no phone signal in our home and after getting in contact with Novatel they quickly suggested a suitable signal amplifier. They also put us in touch with Keith from MTV Solutions who installed the unit. We received the unit and had it installed without delay and we now have a 3G signal in every room of our house. I am delighted with the service and I would highly recommend purchasing a StellaDoradus Kit to improve your phone signal.