StellaDoradus StellaOffice Dual Band Mobile Phone Signal Repeater Kit For Office Use – Boosts Voice/SMS 4GLTESignal In Buildings & Offices
Guaranteed Irish
NCL is proud to offer the Stella Doradus Signal Repeater (ComReg Approved and Easy to Set Up). Not only are we 100% Irish (Manufactured in Waterford), but our repeaters come with a 3-year warranty.
Stock:

In Stock

Brand: StellaDoradus
Model:

SD-RP1002-XX-4P

Weight:

0.60kg

Dimensions:

16.00cm x 15.00cm x 3.50cm

MPN:

SD-RP1002-XX-4P
Dual Band Support: 800Mhz + 900Mhz / 900Mhz + 1800Mhz / 900Mhz + 2100Mhz.
Signal Booster for GSM (900Mhz), 3G, and 4G (800MHz / 1800Mhz) to improve signal coverage inside your offices, buildings, underground facilities, factories, and buildings with thick walls and insulation. Also perfect for large and wide open spaces and huge installation projects.
This repeater system can be an alternative to Vodafone's SureSignal™ Mobile Booster, and can also work for 3, Meteor, Tesco, EIR, and other mobile networks in Ireland Europe and the rest of the world.
The StellaOffice Dual-Band Repeater Notable Features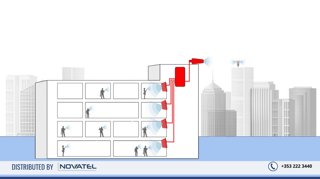 Amplifies: 800Mhz + 900Mhz / 900Mhz + 1800Mhz / 900Mhz + 2100Mhz in large buildings/wide-area
Coverage: 4,000M2 (Up to 15 Rooms)
An unlimited number of simultaneous data calls/connections.
4-port repeater, to cover a larger area

Signal and diagnostic power indicators
3-year warranty
Made and Designed in Waterford, Ireland
Safe & Legal to Use in Ireland
What's In The Box?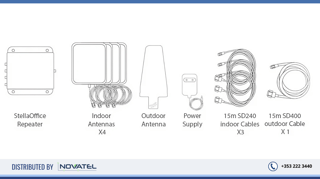 How To Buy?
To order online, you can choose from various models that support two specific frequency bands (please choose from the cart options):
800Mhz + 900Mhz
900Mhz + 1800Mhz
900Mhz + 2100Mhz
Or, you can simply call us to order using this number +353 22 23440 or use the Add to Cart button on this page and go through the secured easy, and fast checkout process.
You can pay using your Credit Card via the Secured Stripe Payment Gateway.
How Will My Order Be Delivered?
All orders are shipped via express delivery and are normally delivered within 1-4 business days. Your order will be dispatched directly from our warehouse and you will be provided a piece of tracking information for your order after it is dispatched. If you have any questions about your order status, please contact us.
So, what are you waiting for? Order today and start boosting your cellphone's signal in your office, building, or hotel.