Teltonika EYE Beacon: Track, Locate, and Monitor Your Assets with Smart Bluetooth Beacons
New
Stock:

In Stock

Brand: Teltonika Telematics
Model:

EYEBeacon

Weight:

18.00g

Dimensions:

56.60mm x 38.00mm x 13.00mm

EAN:

4779027310213

MPN:

BTSID14KB801
As a logistics company operation manager or a vehicle tracking business operator, you know how crucial it is to track the location and movement of your assets and vehicles. You need a simple and cost-effective solution that can help you keep track of your trailers, containers, tools, inventory, or any other movable objects. You also need a solution that can work with your existing GPS devices and applications.
That's why you need the EYE Beacon from Teltonika.
The Teltonika Eye Beacon (TEB) is a compact and powerful device that enables you to locate and manage your assets in real-time.
It is a Bluetooth Low Energy ID beacon that can transmit a radio signal with a unique ID to track the location of your items of interest. It works with any Bluetooth-enabled device and supports various data protocols for different applications.
The EYE Beacon is made to survive for a very long period while requiring little upkeep and effort. It boasts a durable, waterproof (IP67) body and a long-lasting battery that can last up to 10 years. Additionally, it has strict security procedures in place to protect your data's privacy and security.
You can easily and conveniently track your assets with the EYE Beacon. With the simple-to-use EYE app, you can also configure and manage your beacon. To make your beacon compatible with a variety of applications, you can select from a variety of data protocols including iBeacon, Eddystone, or Teltonika. On your mobile app or web platform, you can also view the information and notifications from your beacon.
The EYE Beacon is the best asset and vehicle tracker available. You may increase your productivity and profitability, strengthen your safety and security, and investigate new possibilities and markets with its assistance.
Quick Overview Video
Features & Benefits
The Smart Way to Track Your Assets
TEB is a versatile and reliable device that allows you to track and monitor your assets in real-time using BLE technology. Whether you need to locate your vehicles, equipment, tools, or inventory, Teltonika Eye Beacon provides you with a simple and effective way to do it from anywhere.
With Teltonika Eye Beacon, you can:
Access historical data and reports on your assets' activity and performance
Customize the device settings and parameters according to your needs and preferences
Use the app to scan the nearby beacons and see their location, status, and battery level on a map
Set up alerts and notifications for events such as movement, temperature, or battery level changes
Attach the device to any asset and pair it with your smartphone or tablet using the Teltonika Eye app
A Flexible and Scalable Solution for Any Industry
TEB is designed to meet the needs of various industries and applications that require asset tracking and monitoring using BLE technology. Whether you need to track your fleet, construction equipment, warehouse inventory, or any other asset, Teltonika Eye Beacon can handle it.
With Teltonika Eye Beacon, you can:
Reduce your costs and risks by preventing asset loss, theft, or damage
Expand your business opportunities and revenue streams by offering new services and solutions
Enhance your customer satisfaction and loyalty by providing better service quality and delivery
Improve your operational efficiency and productivity by optimizing asset utilization and maintenance
A Trusted and Proven Solution from a Leading Manufacturer
TEB is a product of Teltonika Telematics, a leading manufacturer of IoT connectivity solutions. With over 20 years of experience and more than 10 million devices sold worldwide, Teltonika Telematics is a trusted partner for thousands of customers across various industries.
With Teltonika Eye Beacon, you can:
Get professional support and assistance from a dedicated team of experts
Receive regular firmware updates and new features to keep your device up-to-date
Join a global community of users and developers who share their knowledge and feedback
Rely on a high-quality and durable device that complies with industrial standards and certifications
Learn More About Teltonika Eye Beacon
What It Is Used For?
A Teltonika Eye Beacon is a Bluetooth Low Energy (BLE) ID Beeacon that may send out a radio signal with a specific ID to track the location of objects of interest. It is made to be quick, simple, and inexpensive to configure and integrate, saving you valuable time and resources while increasing profitability. It features a durable waterproof housing (IP67) and a battery with a long lifespan (up to 10 years). The iBeacon and Eddystone protocols are supported. It can be used for tracking deliveries, monitoring different moving items, and traceability use cases in construction, agriculture, and logistics. It can also be utilized as an indoor tracking solution for objects in hospitals, warehouses, transportation hubs, and other kinds of industrial settings.
What is the difference between EYE Beacon and EYE Sensor?
Essentially, both of these devices could answer your question "How to Track Anything With GPS?". How so? Please read further below to know more.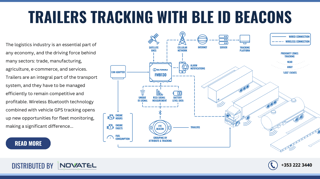 ---
The EYE Beacon and EYE Sensor have distinct features in the sense that the former can only transmit a radio signal with a special ID to track the location of objects of interest, whereas the latter can track a variety of other parameters, including object temperature, humidity, acceleration, and changes in magnetic field strength. Similar to the EYE Beacon, the EYE Sensor has a lower battery life.
How does it work with Teltonika GPS devices?
Teltonika GPS devices that allow Bluetooth connectivity and have the software version 03.25.15.Rev.00 or higher can use the EYE Beacon and EYE Sensor. Using iBeacon, Eddystone, or Teltonika protocols, the Teltonika GPS devices can scan and read the data from the EYE Beacon and EYE Sensor. The information may then be transmitted to a server or seen on a mobile app.
How & Where to Buy?
To buy the Teltonika Eye Beacon BLE Tracker, you can drop by (requires prior appointment) our store located at Novatel Communications, Main St, Buttevant, Co. Cork, P51 K066, Ireland.
To order online, simply click on the Add to Cart button, and then go through the fast, easy, and secure checkout process. Payment is provided for your convenience via Authipay Payment Gateway. You can use any supported cards (MasterCard, Visa, etc).
How Will My Order Be Delivered?
Your order(s) will be shipped via express delivery and are typically delivered within 1-4 business days. Your order will be dispatched directly from our warehouse and you will be provided a piece of tracking information for your order after it is dispatched. If you have any questions about your order status, please contact us.
---