StellaDoradus StellaOffice Single Band Mobile Phone Signal Repeater Kit For Office Use – Boosts Voice/SMS 4GLTE Signal In Buildings & Offices
Guaranteed Irish
NCL is proud to offer the Stella Doradus Signal Repeater (ComReg Approved and Easy to Set Up). Not only are we 100% Irish (Manufactured in Waterford), but our repeaters come with a 3-year warranty.
Stock:

In Stock

Brand: StellaDoradus
Model:

SD-RP1002-X-4P

Weight:

0.60kg

Dimensions:

16.00cm x 15.00cm x 3.50cm

MPN:

SD-RP1002-X-4P
Single Band: 900MHz Support.
The StellaDoradus Single Band Mobile Signal Repeater is a remarkable device that is perfect for enhancing signal reception of your cellular devices. It works well in boosting Voice Calls & SMS signals in your mobile devices, while you are inside highly-insulated buildings with thick concrete or dry walls and other construction materials that block the cellular signal from getting in.
It's a must-have device for businesses that require mobile calls to operate and run their day-to-day business operation, but cellular signals outside your building won't even penetrate your basement, roofs, and walls. Get one today and eradicate your weak signal issue inside your building. Enjoy drop-call-free voice calls in no time!
This GSM booster kit is similar to the SD-RP1002-G model, the only difference is the indoor antenna port. This model comes with 4-port indoor antenna connectors, to let you attach more indoor antennas inside the building. More indoor antenna means more area/rooms to be covered.
Notice the image below, which it shows the repeater connected to 4-indoor antennas. Each antenna serves as a mini cellphone tower, it re-transmits the amplified signal from the repeater device to your target area. Sample application is shown below where each indoor antenna is installed on each floor of the building.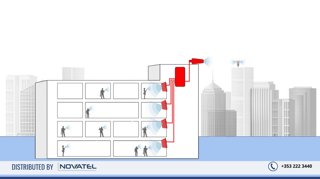 The StellaDoradus Signal Repeater is the most affordable legal-to-sue signal repeater that can be used in any scenario where you want to enhance your devices' signal. It has a superior performance compared to other similar products that you can find in the market today, giving you more bang for your buck!
Repeater Features
Provides GSM (Voice & SMS) signal at 900Mhz for your large building
Coverage: 4000m2 (up to 15 rooms)
Compatible with all Irish & European mobile operators
Unlimited number of calls/data sessions at the same time
CE certified
Signal power and diagnostics indicator
Designed & Manufactured in Ireland
Complete operator network protection
Works with all known Irish mobile operators
ComReg Approved and Legal to Use in Ireland
3-year Warranty
Technical Specification
You can read further below to know more about SD-RP1002-G-4P's technical specifications.
Frequency Specifications
Frequency Bands (MHz)
880 – 960MHz
Coverage
(1000m 2 per antenna X 4) = ~15 rooms
Number of People
Unlimited
Gain
Uplink Gp > 50
Downlink Gp > 60dB
Pass Band Ripple
< 4dB
I/O Impedance
50 ohm/SMA Female Connector
Max Uplink/Downlink Signal Strength
17dBm / 10dBm
Ambient Temperature
-30°C to +70°C
Power Supply Input
110 - 240V AC
Power Supply Output
12v DC
Oscillation Control
Automatic
Level Control
Automatic (Automatically adjusts during installation. Thereafter, automatically adjusts for seasonal variation in pathloss between
Basestation and Outdoor Antenna)
Uplink Switch Off
Yes (The uplink amplifiers switch off when the repeater is not in use, thus reducing the uplink noise to almost zero. When
the repeater is in use (eg phone call being made), the uplink amplifier switches on for the duration of the call and a blue
LED switches on indicating this is the case)
AGC Range
30dB
Surge Protection
SMA Connectors DC Grounded, 12V DC Port MOV Protected
Antenna Specifications


Indoor Antenna
Outdoor Antenna
Nominal Gain
6.4dBi / 9.4dBi
10dBi
3dB beam Pattern
60ºC x 60ºC
60ºC x 50ºC
Bandwidth
790-960MHz + 1710-2700MHz
790-960MHz + 1710-2700MHz
VSWR
<1.4
<1.5
Front to Back Ratio
> 20dB
> 20dB
Polarization
Vertical
Vertical
Power Rating
50W
50W
Impedance
50-OHM
50-OHM
Termination
SMA Male
N-Female
Cross Pol. Discrimination
-20dB
-20dB
Dimensions
210 x 180 x 43mm
442 x 205 x 62mm
Weight
0.68kg
1.2kg
Wind Velocity
126km/hr
140km/hr
Working Temperature
-40ºC to +65ºC
-40ºC to +65ºC
Power Supply Specification
AC
100-240V, 50-60Hz
DC Input
12v, 0.7A
Typical Power Usage
15W
Mechanical Specification
Length
16cm
Width
15cm
Depth
3.5cm
Weight
0.6kg
Mounting
6 x 5mm holes for mounting
Note: Specifications are subject to change without notice.
What's In The Box?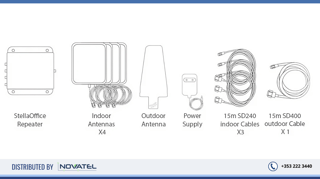 How To Buy?
To buy this Mobile GSM Booster for Office, simply can call us to order using this number +353 222 3440 or use the Add to Cart button on this page and go through the secure easy and fast checkout process.
You can pay using your Credit Card via the Secured Stripe Payment Gateway.
How Will My Order Be Delivered?
All orders are shipped via express delivery and are normally delivered within 1-4 business days. Your order will be dispatched directly from our premises and you will be provided a piece of tracking information for your order after it is dispatched. If you have any questions about your order status, please contact us.
So, what are you waiting for? Order the SD-RP1002-G-4P today and start boosting your cellphone's signal, whether in your small office, multi-storey building, hotel, hospital, warehouse, or huge factory.
Use it as a Vodafone signal booster, and will also work for 3, Meteor, Tesco, EIR, and other mobile networks in Ireland, Europe, and the rest of the world.