Tenda A15 - AC750 Dual Band 433Mbps WiFi Repeater Kit
If you're looking to expand your Wi-Fi signal coverage, grab one of the Tenda A15 repeater kits. It's powerful enough to cover an area of 180 square meters. Any Router brand can be integrated with it.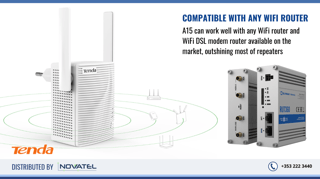 The Tenda A15 dual-band Wi-Fi repeater is very similar to the A18 model. The only obvious difference between these two is their maximum wireless data rate. When both devices are on the 5GHz band, A15 can reach a speed of up to 433Mbps, while the A18 can go up to 867Mbps of wireless speed. To some, this makes a lot of a difference.
NOTE: Read the table below for the full A15 technical specification.
The A15 is an AC750 signal repeater which is ideal two-storey houses, villas, and multi-room houses with an area of 120 square meters or over. It features a 300Mbps data rate under the 802.11n wireless standard, while 433Mbps on 802.11ac. The two non-detachable antennas, just like those on the Tenda A18, serve as omnidirectional antennas, to help cover a wider area and bring the Internet to any direction and corners of your house. It lets you enjoy extremely fast data rates, great user experience on 1080P HD video playbacks, massively multiplayer online games, and high-speed online file sharing.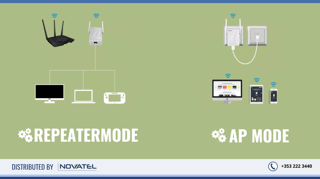 A15 vs A18 Quick Comparison


A15
A18
Frequency Band
2.4GHz (802.11n speed)
5GHz (802.11ac speed)
2.4GHz (802.11n speed)
5GHz (802.11ac speed)
Data Rate
802.11b: 11 Mbps
802.11g: 54 Mbps
802.11n: 300 Mbps
802.11ac: 433 Mbps
802.11b: 11 Mbps
802.11g: 54 Mbps
802.11n: 300 Mbps
802.11ac: 867 Mbps
Transmit Power
2.4 GHz: 16dBm
5 GHz: 12dBm
2.4 GHz: 16dBm
5 GHz: 12dBm
Operating Mode
Repeater Mode
AP Mode
Repeater Mode
AP Mode
Antenna (non-detachable)
2 x External 2dBi dual-band omnidirectional
2 x External 2dBi dual-band omni-directional
Features
Swift Switchover Between 2.4 Ghz And 5 Ghz Bands For Stable Internet Connection With Least Interruption

A15 can expand 2.4 GHz and 5 GHz WiFi networks simultaneously, supporting automatic switchover of mobile devices, gaming consoles, and wall-mounted smart tv, between 2.4GHz and 5GHz bands. It offers a 300Mbps (on 2.4 GHz band) that maximise mobile device connectivity, and a much faster 433Mbps (on 5GHz band)that minimizes interference.

Exquisite Design, Compact, Yet Excellent in Performance

The compact exterior provides high-quality and long-range WiFi coverage. Working with a dual-band WiFi router, A15 allows you to enjoy a smarter life with faster and more stable internet connection. It allows cable-free powering and a tidy look, thanks to its wall-plug design.

Two Modes In One For A Variety Of Scenarios

You can switch between Repeater mode and AP mode as needed.

Repeater Mode: A15 can expand WiFi coverage by bridging the upstream router's WiFi signal, and allows wired devices connected to its LAN port to access the Internet.

AP Mode: Connect an Ethernet cable with Internet connectivity to the LAN port of A15, turning it into an Access Point.

Intuitive LED Lights To Indicate The Optimal Repeater Location

The Signal LED tells the best repeater location.

Where:

Blue: Good signal strength
Red: Poor signal strength
Off: No signal

Easy to Setup

A15 supports configuration via WiFi-capable devices, such as mobile phones and tablets. It would only take 3 steps to connect your repeater to the Internet.

3-Steps:

Connect your WiFi device to A15's default SSID;
Start a web browser, go to re.tenda.cn
Select the WiFi network you want to extend and enter its WiFi password. You can customize the SSID and WiFi password.

Compatible With Any WiFi Router

A15 can work well with any WiFi Router or DSL Modem available on the market.

To name a few, see the list below:
Technical Specification
Please read the table below for the full technical specification of the Tenda A15 Repeater.
Hardware
Port
1 x 10/100 Mbps RJ45 Ethernet Port
Button
Reset, WPS
LED indicator
1 x Signal LED
1 x WPS LED
1 x Power LED
Flash memory
8MB
Memory
64MB
Power Supply
9V 0.8A, built-in
Power Plug
National Standard, US Standard, European Standard, UK Standard, Brazil Standard
Power Consumption
No-load: 2.8W, Full-load: 5.2W
Rated Voltage/Frequency/Current
100-240V 50/60Hz, 0.3A Max, CLASSII
Wireless
Standard
IEEE 802.11a, IEEE 802.11n, and IEEE 802.11ac wave2 on 5 GHz
IEEE 802.11b, IEEE 802.11g, and IEEE 802.11n on 2.4 GHz
Data Rate
802.11b: 11 Mbps
802.11g: 54 Mbps
802.11n: 300 Mbps
802.11ac: 433 Mbps
Frequency Band
11n: 2.412-2.484 GHz
11ac: 5.15-5.25 GHz
Transmit Power
2.4 GHz: 16dBm


5 GHz: 12dBm
RSSI
2.4 GHz:
11b-1M:-97dBm
11g-54M:-76dBm
11n-20M-MCS7:-74dBm
11n-40M-MCS7:-72dBm


5 GHz:
11a-6M:-95dBm
11n-20M-MCS7:-74dBm
11n-40M-MCS7:-72dBm
11ac-80M-MCS9:-63dBm
Antenna
2 x External 2dBi dual-band omnidirectional antenna (non-detachable)
Recommended Application Scenario
180 square meters (subject to the actual environment)
Wireless Security Protocol
Encryption mode: Mix WPA-PSK/WPA2-PSK
WPA algorithm: TKIP & AES
Dimensions


Dimension of One
80mm x 58mm x 48mm
Software
Channel Bandwidth
11n: 20/40MHz by default
11ac: 80MHz by default
Operating Mode
Repeater Mode
AP Mode
Wireless Security Protocol
Default encryption mode: Mix WPA-PSK/WPA2-PSK
Blacklist
Hide SSID
DHCP Server
Supported
System Tools
Firmware upgrade, Restore factory settings, Login password, and Reboot
Environment
Operating temperature
0°C~400°C
Storage temperature
-400°C~700°C
Operating humidity
10%~90%RH, non-condensing
Storage temperature
5%~90%RH, non-condensing
How & Where to Buy?
To buy the Tenda A15 AC750 Dual Band WiFi Repeater Kit, you can drop by our store (by appointment only) located at Novatel Communication, Main Street, Buttevant, Co. Cork P51 K066.
To purchase online, simply click on the Add to Cart button, and then go through the fast, easy, and secure checkout process. Payment is provided for your convenience via Stripe Payment Gateway. You can use any card supported by it (MasterCard, Visa, American Express, and Diners Club).
How Will My Order Be Delivered?
Your order(s) will be shipped via express delivery and are normally delivered within 1-4 business days. Your order will be dispatched directly from our warehouse and you will be provided a piece of tracking information for your order after it is dispatched. If you have any questions about your order status, please contact us.