Teltonika RUT950: Secure Wireless LTE Router/Modem with Automatic Dual WAN Failover Feature
Stock:

In Stock

Brand: Teltonika Networks
Model:

RUT950

Weight:

630.00g

Dimensions:

175.00mm x 355.00mm x 60.00mm

MPN:

RUT950
The Teltonika RUT950 is a highly reliable & secure 2G/3G/4GLTE Router for professional applications. It has Dual SIM Card Slot for redundant & high-performance cellular connection.
4G LTE Router with VPN/WiFi & Dual Sim Card Slot
If you're looking for a Dual SIM card capable router (supports multi-cut SIM with regular adapter; Regular, Micro, Nano), then the RUT950 is what you would need for a high-performance MIMO LTE connection (with dual SMA External Connector). Couple that with a Poynting External Antenna and you'll be speeding on the information superhighway in no time.
For those wanting to set up a VPN server with this remarkable device, you can enjoy the feature of using 3rd party VPN services like; expressvpn.com, vpngate.net, vpnbook.com, and hide.me. You can also use the built-in OpenVPN Server. With the OpenVPN feature, you can set the router to act as a VPN server or client or maybe both The VPN feature can handle the following; IPsec, GRE Tunnel, PPTP, L2TP, L2TP over IPsec, DMVPN, ZeroTier One VPN, and OpenVPN over Stunnel.
For those who are looking to share their Wireless Internet Internet connection, you're in luck! This device supports Wi-fi Hotspot configuration to share you fast broadband connection either for a fee or for free use. You can either use an external or internal RADIUS server using the Router's built-in RADIUS user authentication feature. The hotspot feature isn't limited and lets you use some 3rd-party wifi hotspot services like the ironwifi.com and purple.ai. In case you didn't know yet, IronWifi offers a RADIUS authentication service on the cloud and a Captive Portal that lets users to authenticate and be authorized to connect without having to maintain their own RADIUS authentication server. IronWifi manages all of the technical details, from scaling the infrastructure to real-time analytics. Similar to purple.ai, a UK-based technology firm: offers a free WiFi platform.
DDNS or Dynamic DNS (Dynamic Domain Name System) feature also comes with this modem/router, very useful if you need to access your local area network from the Internet, and if you don't have your own public IP address. For your little info, most LTE connections don't let you have your own IP address. You need to make a request to your ISP which of course comes in premium. The DDNS supports third-party services like; noip.com, dnsdynamic.org, dynu.com, and dyn.com.
Please read further below for the full features and specifications of the Teltonika RUT950.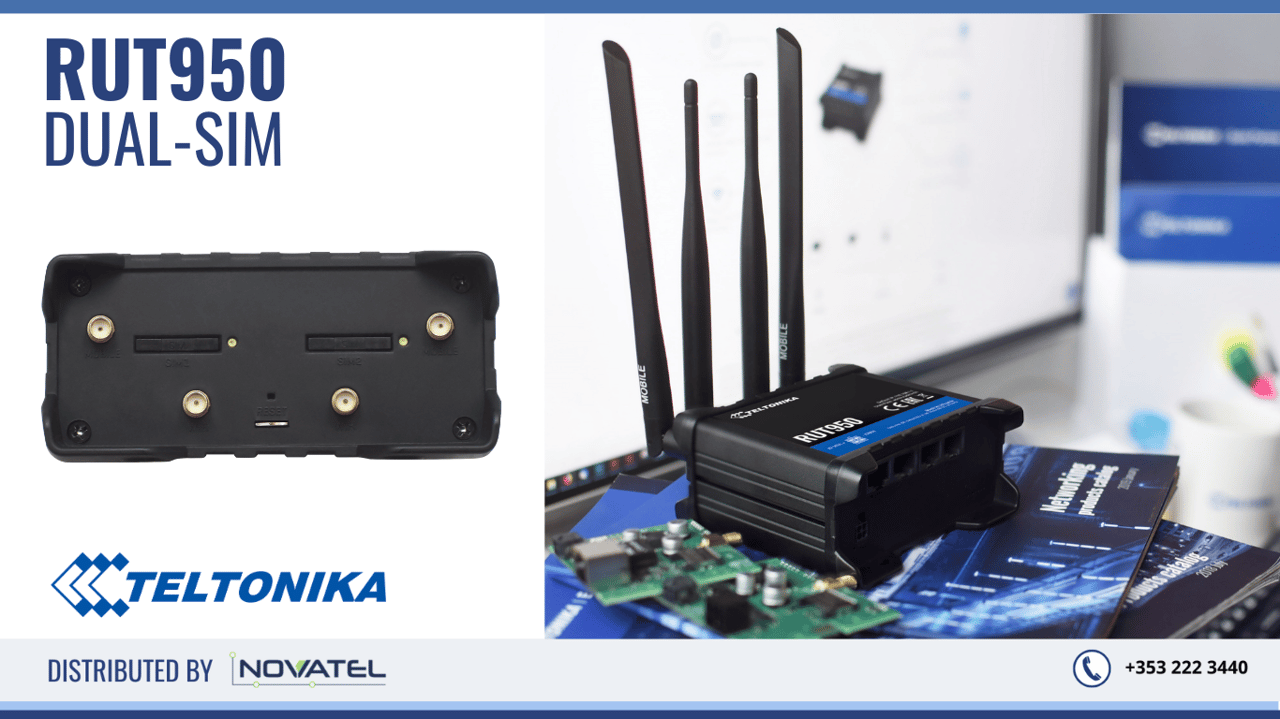 RUT950 vs. RUT955: Quick Comparison
Check the data table out, so you can have a quick overview of the differences between the two networking devices.


RUT950
RUT955
GPS/GLONASS
N/C
Capable
USB2.0 Port
N/A
Available: For connecting external HDD or Flash Drive for SAMBA Sharing, additional modem
Mobile Module Speed
4G LTE Cat4 up to 150 Mbps
3G: Up to 42 Mbps
2G: Up to 236.8 Kbps
4G LTE Cat4 up to 150 Mbps
3G: Up to 42 Mbps
2G: Up to 236.8 Kbps
Dual-WAN Failover
Capable
Capable
Interface
WAN Port: 1 x 10/100 Mbps (can be configured as LAN)
LAN Port: 10/100 Mbps x 3
WAN Port: 1 x 10/100 Mbps (can be configured as LAN)
LAN Port: 10/100 Mbps x 3
OpenVPN
Capable
Capable
Industries & Application Where You Can Use the RUT950
ATMs
Metering devices
Police Helicopters
Telemetry Stations
Traffic lights monitoring
Construction monitoring
WiFi for Construction Sites
Boat, Yacht, and Ship installation
Internet in Rural Areas/Countryside
Remote View/Administration of CCTV cameras
Features & Technical Specifications
MOBILE
Mobile module
4G (LTE): Cat 4 up to 150 Mbps, 3G: Up to 42 Mbps, 2G: Up to 236.8 kbps.
SIM switch
2 SIM cards, auto-switch cases: weak signal, data limit, SMS limit, roaming, no network, network denied, data connection fail, SIM idle protection
Status
Signal strength, SINR, RSRPO, RSRQ, Bytes sent/received
Bridge
Direct connection (bridge) between mobile ISP and device on LAN
SMS
SMS status, SMS configuration, send/read SMS via HTTP POST/GET, EMAIL to SMS, SMS to EMAIL, SMS to HTTP, SMS to SMS, scheduled SMS, SMS auto-reply, SMPP
Black/White list
Operator black/white list
Multiple PDN (optional)
Possibility to use different PDNs for multiple network access and services
WIRELESS
Wireless mode
IEEE 802.11b/g/n, Access Point (AP), Station (STA)
WiFi
WPA2-Enterprise (with external/internal Radius server), WPA2-PSK, WPA-PSK, WEP, MAC Filter
WiFi security
WPA2-Enterprise: PEAP, TLS, TTLS. AES-CCMP, TKIP, Auto Cipher modes. Client separation
SSID
SSID stealth mode and access control based on MAC address
WiFi users
Up to 100 simultaneous connections
Hotspot
Captive portal (Hotspot), internal/external Radius server, built in customizable landing page
ETHERNET
WAN
1 x WAN (can be configured to LAN) 10/100 Mbps, comply IEEE 802.3, IEEE 802.3u standards, supports auto MDI/MDIX
LAN
3 x LAN ports, 10/100 Mbps, comply with IEEE 802.3, and IEEE 802.3u standards, supports auto MDI/MDIX
NETWORK
Routing
Static routing, Dynamic routing (BGP, OSPF v2, RIP v1/v2)
Network protocols
TCP, UDP, IPv4, IPv6, ICMP, NTP, DNS, HTTP, HTTPS, FTP, SMTP, SSL v3, TLS, ARP, VRRP, PPP, PPPoE, UPNP, SSH, DHCP, Telnet, SMPP, MQTT
VoIP pass-through support
H.232 and SIP-alg protocol NAT helpers, allowing proper routing of VoIP packets
Connection monitoring
Ping Reboot, Periodic Reboot, LCP, and ICMP for link inspection
Firewall
Port forward, traffic rules, custom rules
DHCP
Static and dynamic IP allocation
QoS
Traffic priority queuing by source/destination, service, protocol or port, traffic priority queuing by source/destination, service, protocol or port, WMM, 802.11e
DDNS
Supported >25 service providers, others can be configured manually
Network backup
VRRP, Mobile, Wired, and WiFi WAN options, each of which can be used as a backup
Load balancing
Balance your internet traffic over multiple WAN connections
NetSnapper (optional)
Mobile connection management, data compression VPN client (not available in standard FW)
SSHFS (optional)
Possibility to mount remote file system via SSH protocol (not available in standard FW)
SECURITY
Authentication
The pre-shared key, digital certificates, X.509 certificates
Firewall
Pre-configured firewall rules can be enabled via web-ui, unlimited firewall configuration via CLI; DMZ; NAT; NAT-T
Attack prevention
DDOS prevention (SYN flood protection, SSH attack prevention, HTTP/HTTPS attack prevention), port scan prevention ( SYN-FIN, SYN-RST, X-mas, NULL flags, FIN scan attacks)
WiFi security
WPA2-Enterprise: PEAP, EAP-TLS, TLS, TTLS. AES-CCMP, TKIP, Auto Cipher modes. Client separation
VLAN
Port-based and tag-based VLAN separation
Mobile quota control
Set up custom data limits for both SIM cards
WEB filter
Blacklist for blocking out unwanted websites, whitelist for specifying allowed sites only
Access control
Flexible access control of TCP, UDP, ICMP packets, MAC address filter
VPN
OpenVPN
Multiple clients and servers can be running simultaneously, 12 encryption methods
OpenVPN Encryption
DES-CBC, RC2-CBC, DES-EDE-CBC, DES-EDE3-CBC, DESX-CBC, BF-CBC, RC2-40-CBC, CAST5-CBC, RC2-64-CBC, AES-128-CBC, AES-192-CBC, AES-256-CBC
IPsec
IKEv1, IKEv2, support up to 4x VPN IPsec tunnels (instances), with 5 encryption methods (DES, 3DES, AES128, AES192, AES256)
GRE
GRE tunnel
PPTP, L2TP
Client/Server services can run simultaneously
MONITORING & MANAGEMENT
WEB UI
HTTP/HTTPS, status, configuration, FW update, CLI, troubleshooting, event log, system log, kernel log
FOTA
Firmware update from sever, automatic notification.
SSH
SSH (v1, v2)
SMS
SMS status, SMS configuration, send/read SMS via HTTP POST/GET
TR-069
OpenACS, EasyCwmp, ACSLite, tGem, LibreACS, GenieACS, FreeACS, LibCWMP, Friendly tech, AVsystems
MQTT
MQTT Broker, MQTT publisher
SNMP
SNMP (v1, v2, v3), SNMP trap
JSON-RPC
Management API over HTTP/HTTPS
MODBUS
MODBUS TCP status/control
RMS
Teltonika Remote Management System (RMS)
SYSTEM CHARACTERISTICS
CPU
Atheros Wasp, MIPS 74Kc, 550MHz
RAM
128MB, DDR2
FLASH memory
16MB SPI Flash
FIRMWARE / CONFIGURATION
WEB UI
Update FW from a file, check FW on the server, configuration profiles, configuration backup, restore point
FOTA
Update FW/configuration from server
RMS
Update FW/configuration for multiple devices
Keep settings
Update FW without losing the current configuration
FIRMWARE CUSTOMIZATION
Operating system
RutOS (OpenWrt-based Linux OS)
Supported languages
Busybox shell, Lua, C, C++
Development tools
GPL package with build environment provided
POWER
Connector
4 pin industrial DC power socket
Input voltage range
9: 30 VDC (4 pin industrial socket), reverse polarity protection; surge protection >31VDC 10us max.
PoE (passive)
Passive PoE over spare pairs. Possibility to power up through LAN port, not compatible with IEEE802.3af and 802.3at standards
Power consumption
< 2W idle, < 7W Max.
PHYSICAL INTERFACES (PORTS, LEDS, ANTENNAS, BUTTONS, SIM)
Ethernet
4 x RJ45 ports, 10/100 Mbps
Status LEDs
1 x bi-color connection status LED, 5x connection strength LEDs, 4x LAN status LEDs, 1x Power LED
SIM
2 x SIM slots (Mini-SIM: 2FF, 2st form factor), 1.8V/3V
Power
4-pin industrial DC power socket
Antennas
2 x SMA for LTE, 2 x RP-SMA for WiFi antenna connectors
Reset
Reset/restore to the default button
PHYSICAL SPECIFICATION
Casing material
Aluminium housing, plastic panels
Dimensions
80 mm x 106 mm x 46 mm (H x W x D)
Weight
235 g
Mounting options
DIN rail (can be mounted on two sides), flat surface placement
OPERATING ENVIRONMENT
Operating temperature
-40 °C to 75 °C
Operating humidity
10% to 90% non-condensing
Ingress Protection Rating
IP30
MTBF
270000 h
REGULATORY & TYPE APPROVALS
Regulatory
CE/RED, FCC, R&TTE, EAC, PTCRB, RoHS, WEEE
Operator
AT&T, Verizon (planned)
EMI IMMUNITY
ESD
EN 301 489 V2.1.1 (EN61000-4-2:2009)
RF
EN 301 489 V2.1.1 ( EN 61000-4-3:2006, A1:2008 and A2:2010)
EFT
EN 301 489 V2.1.1 (EN 61000-4-4:2013)
Surge protection
EN 301 489 V2.1.1 (EN 61000-4-5:2014)
RC
EN 301 489 V2.1.1 (EN 61000-4-6:2014)
ENVIRONMENTAL TESTING
Anti-shock/Drop/Vibration
IEC 60950-1:2005 (Second Edition) + Am 1:2009 + Am 2:2013, EN 60950-1:2006 + A1:2010 + A2:2013 + A11:2009 +A12:2011, DNVGL-CG-0339:2016, Class A: Section 3, Article 6; EN 60068-2-6:2008
Impact strength
IEC 60950-1:2005 (Second Edition) + Am 1:2009 + Am 2:2013, EN 60950-1:2006 + A1:2010 + A2:2013 + A11:2009 +A12:2011
What's In the Box
The RUT950 package contains the following:
Router RUT950
Euro PSU
2 x LTE antennas (swivel, SMA male)
2 x WiFi antennas (swivel, RP-SMA male)
Ethernet cable (1.5 m)
QSG (Quick Start Guide)
Packaging box
How & Where to Buy?
To buy the Teltonika RUT950 4G LTE Modem/Router, you can drop by our store (by appointment only) located at Novatel Communication, Main Street, Buttevant, Co. Cork P51 K066.
To purchase online, simply click on the Add to Cart button, and then go through the fast, easy, and secure checkout process. Payment is provided for your convenience via Stripe Payment Gateway. You can use any card supported by it (MasterCard, Visa, Amex, JCB, more..).
In case you would want to improve your LTE signal reception, you can visit our mobile signal repeater page for more details.
How Will My Order Be Delivered?
Your order(s) will be shipped via express delivery and are normally delivered within 1-4 business days. Your order will be dispatched directly from our warehouse and you will be provided a piece of tracking information for your order after it is dispatched. If you have any questions about your order status, please contact us.