Teltonika FMC920: Track and Control Your Fleet with the Best-selling 4G Compact GPS Tracker
New
Stock:

In Stock

Brand: Teltonika Telematics
Model:

FMC920

Weight:

54.00g

Dimensions:

79.00mm x 43.00mm x 12.00mm
The FMC920 is a small and smart tracker with Bluetooth connectivity, internal high-gain GNSS and GSM antennas, and an integrated backup battery. It supports 4G LTE Cat 1 network coverage with a fallback to 2G, ensuring reliable and future-proof network support for your fleet.
FMC920 by Teltonika Telematics - The most popular compact 4G tracker for basic tracking!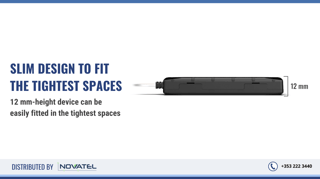 How It Works
FMC920 is a tracking terminal with GNSS and GSM connectivity, which is able to collect device coordinates and transfer them via GSM network to a server. This device is perfectly suitable for applications, which require the location acquirement of remote objects. You can use FMC920 to monitor and control your vehicles, such as cars, trucks, buses, motorcycles, or scooters. You can also use FMC920 to track and manage your assets, such as containers, trailers, or machinery.
Why You Need It
FMC920 can benefit your business in many ways, such as:
Improving your fleet efficiency and productivity by optimizing routes, reducing fuel consumption, and preventing unauthorized use.
Enhancing your fleet safety and security by detecting accidents, thefts, or tampering, and enabling remote engine blocking.
Increasing your customer satisfaction and loyalty by providing accurate delivery times, real-time location updates, and proof of service.
Reducing your operational costs and risks by simplifying maintenance, compliance, and insurance processes.
What You Get With The Product
With FMC920, you get:
A compact and easy-to-install device that fits in the tightest spaces.
A powerful and reliable device that supports 4G LTE Cat 1 network coverage with a fallback to 2G.
A versatile and smart device that supports Bluetooth connectivity for data transfer and external sensors.
A comprehensive and user-friendly device that offers various features and scenarios, such as eco-driving, green driving, anti-theft solution, driver behavior monitoring, crash detection, immobilizer, geofencing, overspeeding, towing detection, trip detection, jamming detection, excessive idling detection, fuel monitoring, temperature monitoring, liquid level monitoring, and more.
Technical Specification
Get geeky with the technical specs below.
Module
Name
FMC920-QJIB0: Quectel EG915U-EU with Teltonika TM2500
FMC920-QKIB0: Quectel EG915U-LA with Teltonika TM2500
Technology
LTE Cat 1/GSM/GPRS/GNSS/BLUETOOTH
GNSS
GNSS
GPS, GLONASS, GALILEO, BEIDOU, SBAS, QZSS, DGPS, AGPS
Receiver
33 channel
Tracking Sensitivity
-165 dBM
Tracking Sensitivity
< 2.5 m CEP
Velocity Accuracy
< 0.1 m/s (within +/- 15% error)
Hot Start
< 1 s
Warm Start
< 25 s
Cold Start
< 35 s
Cellular
Technology
LTE Cat 1, GSM
2G Bands
FMC920-QJIB0: GSM: B2/B3/B5/B8
FMC920-QKIB0: GSM: B2/B3/B5/B8
4G LTE Cat 1 Bands
FMC920-QJIB0: LTE FDD: B1/B3/B7/B8/B20/B28
FMC920-QKIB0: LTE FDD: B2/B3/B4/B5/B7/B8/B28/ B66
Data Transfer
LTE: LTE FDD: Max 10Mbps (DL)/Max 5Mbps (UL)
LTE TDD: Max 85.6 Mbps (DL)/Max 85.6 Mbps (UL)
GSM: GPRS: Max 85.6Kbps (DL)/ Max 85.6Kbps (UL)
Data Support
SMS (text/data)
Power
Input Voltage Range
10–30 V DC with overvoltage and reverse polarity protection
Internal Back-Up Battery
170 mAh Li-Ion battery, 3.7 V (0.63 Wh)
Internal Fuse
3A, 125V
Power Consumption
At 12V < 2 mA (Ultra Deep Sleep)
At 12V < 3 mA (Deep Sleep)
At 12V < 8 mA (Online Sleep)
At 12V < 12 mA (GPS Sleep)
At 12V < 28 mA (nominal)
Bluetooth
Specification
4.0 + LE
Supported Peripherals
Temperature and Humidity sensor, Inateck Barcode Scanner, Universal BLE sensors support
Operating Environment
Operating Temperature (With Battery)
-20 °C to +40 °C
Operating Temperature (Without Battery)
-40 °C to +85 °C
Storage Temperature (Without Battery)
-40 °C to +85 °C
Storage Temperature (With Battery)
-20 °C to +60 °C
Operating Humidity
5% to 95% non-condensing
Ingress Protection Rating
IP54
Battery Charge Temperature
0 °C to +45 °C
Battery Discharge Temperature
-20 °C to +60 °C
Battery Storage Temperature
-20 °C to +45 °C for 1 month
-20 °C to +35 °C for 6 months
Interface
Digital Inputs
1
Digital Outputs
1
Analog Inputs
1
GNSS Antenna
Internal High Gain
Cellular Antenna
Internal GSM High Gain
USB
2.0 Micro-USB
LED Indication
2 status LED lights
SIM
Micro-SIM
Memory
128MB internal flash memory
Physical Specification
Dimensions
79 x 43 x 12 mm (L x W x H)
Weight
54 g
Features
Sensors
Accelerometer
Scenarios
Green Driving, Over Speeding detection, Jamming detection, GNSS Fuel Counter, DOUT Control Via Call, Excessive Idling detection, Unplug detection, Towing detection, Crash detection, Auto Geofence, Manual Geofence, Trip
Sleep modes
GPS Sleep, Online Deep Sleep, Deep Sleep, Ultra Deep Sleep
Configuration and Firmware Update
FOTA WEB, FOTA, Teltonika Configurator (USB, Bluetooth), FMBT mobile application (Configuration)
SMS
Configuration, Events, DOUT control, Debug
GPRS Commands
Configuration, DOUT control, Debug
Time Synchronization
GNSS, NITZ, NTP
Fuel Monitoring
LLS (Analog), OBDII dongle
Ignition Detection
Digital Input 1, Accelerometer, External Power Voltage, Engine RPM (OBDII dongle)
Certification & Approvals
Regulatory
FMC920-QJIB0: CE/RED, E-Mark, CITC, TRA, RCM, RoHS, REACH
FMC920-QKIB0: RCM, RoHS, Anatel (in progress)
Related Accessories
EYE Beacon: BLE ID beacon with smart design, robust casing, and long battery lifetime
EYE Sensor: BLE sensor to track temperature, humidity, movement, and magnet detection
How and Where to Buy
You can order the Teltonika Telematics FMC920 4G Compact GPS Tracker online using the Add to Cart button. Then go through the checkout page to process your order. You can pay securely using your Credit Card via our secured payment gateway page. Your payment shall be processed via AIB Authipay.
You could also drop by and buy from our physical store located at Novatel Communications, Main Street, Buttevant, Co. Cork, Ireland.
How Will My Order Be Delivered?
Your order(s) will be shipped via express delivery and are normally delivered within 1-4 business days. Your order will be dispatched directly from our warehouse and you will be provided a piece of tracking information for your order after it is dispatched. If you have any questions on your order status, please contact us.