EnGenius ENH1350EXT - 11ac Wave2 MU-MIMO AC1300 Dual-Band Outdoor Wireless Access Point
Hot
Stock:

In Stock

Brand: EnGenius
Model:

ENH1350EXT

Weight:

0.88kg

Dimensions:

15.20cm x 24.80cm x 11.70cm

EAN:

4713361934377

MPN:

1102A1230301
The ENH1350EXT is an easy-to-install high-speed 11ac Wave 2, MU-MIMO, Dual-Band Wireless Outdoor Access Point. It's quick and easy to set up virtually in any location, thanks to its factory-supplied PoE adapter - ideal for quick deployment regardless of proximity to power outlets. The Access Point (AP) is an ideal wireless solution for outdoor residential and commercial applications, as well as, for indoor deployments.
With this AP, you can extend and share your existing high-speed broadband or Fiber Internet, and wireless indoor/outdoor coverage, capable of up to 867Mbps network speed on its 5GHz frequency band, while 400Mbps on the 2.4GHz frequency band.
Like the ENS620EXT, this AP is also capable of Beamforming (antenna technology), which optimizes and maximizes performance and increases network capacities inside or outside your home or building.
The access point is housed in an IP67-rated enclosure, which protects the system from all harsh environmental conditions, making it ideal for open-air or out-of-door use.
Read the full product technical specifications below, to learn more about this product.
NOTE: Comes with Factory Supplied EU Plugs
Features Summary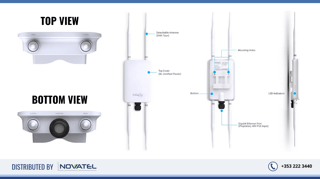 Multi Operation Modes: AP, Client Bridge or WDS
Beamforming Optimizes Antenna Signal, Reception & Reliability
Wave 2 MU-MIMO Improves Performance & Expands User Capacities
11ac Dual-Radio Speeds to 867 Mbps on 5 GHz; to 400 Mbps on 2.4 GHz
Four (4) External 5dbi High-Gain (SMA-Type), Omnidirectional Antennas
IP67-Rated Waterproof & Dustproof Enclosure (Withstands Harsh Environments)
Band Steering Optimizes Network Traffic Flow; Fast Roaming Secures Seamless Connections
Quickly View, Monitor & Reconfigure APs Locally or Remotely with EZ Controller™ Software
Applications & Scenarious
Marinas & Docks
Ranches & Farms
Retail Complexes
Resort Properties
Restaurants & Cafes
Outdoor Living Areas
Warehouse Facilities
Campgrounds & RV Parks
Wi-Fi Coffee Shops & Bars
Golf Courses & Regional Parks
Trucking & Transportation Centers
Technical Specification
Standards
IEEE 802.11b/g/n on 2.4 Ghz
IEEE802.11a/n/ac on 5 Ghz
Antenna
Four (4) External 5 dBi Dual-Concurrent Omni-Directional Antennas (SMA-Type)
Physical Interface
1 x 10/100/1000 Gigabit Ethernet Port
1 x Reset Button
LED Indicators
1 x Power
1 x LAN 1
1 x 2.4 GHz
1 x 5 GHz
Power Source
Power-over-Ethernet: Proprietary 48V PoE
IEEE 802.11e Compliant Source
Active Ethernet (PoE)
Maximum Power Consumption
12.6W
Surge Protection
1KV
ESD Protection
Contact: 4KV
Air: 8 KV
Wireless & Radio Specifications
Operating Frequency
Dual-Radio Concurrent 2.4 GHz & 5 Ghz
Operation Modes
Access Point Mode (AP mode)
Client Bridge Mode (CB mode)
WDS: AP Mode and Bridge Mode
Mesh Mode (Coming Soon)
Frequency Radio
2.4 GHz: 2400 MHz ~ 2835 Mhz
5 GHz: 5150 MHz ~ 5250 MHz, 5250 MHz ~ 5350 MHz, 5470 MHz ~ 5725 MHz, 5725 MHz ~ 5850MHz
Transmit Power
2.4 GHz: 23 dBm


5 GHz: 23 dBm
Radio Chains/Spatial Stream
2x2:2
SU-MIMO
Two (2) Spatial Stream SU-MIMO up to 1267 Mbps to a single client
MU-MIMO
Two (2) Spatial Stream MU-MIMO up to 1267 Mbps to two (2) MU-MIMO capable wireless devices simultaneously
Supported Data Rates (Mbps)
2.4 GHz: Max 400
5 GHz: Max 867
802.11b: 1, 2, 5.5, 11
802.11a/g: 6, 9, 12, 18, 36, 48, 54
802.11n: 6.5 to 400 Mbps (MCS0 to MCS15)
802.11ac: 6.5 to 867 Mbps (MCS0 to MCS9, NSS = 1 to 2)
Supported Radio Technologies
802.11b: Direct-Sequence Spread Spectrum (DSSS)
802.11a/g/n/ac: Orthogonal Frequency-Division Multiplexing (OFDM)
802.11n/ac: 2x2 MIMO with 2 Streams
Channelization
802.11ac supports very high throughput (VHT)—VHT 20/40/80 Mhz
802.11n supports high throughput (HT)—HT 20/40 Mhz
802.11n supports very high throughput (VHT) under the 2.4 GHz radio—VHT (256-QAM)
802.11n/ac packet aggregation: AMPDU, ASPDU
Supported Modulation
802.11b: BPSK, QPSK, CCK
802.11a/g/n: BPSK, QPSK, 16-QAM, 64-QAM
802.11ac: BPSK, QPSK, 16-QAM, 64-QAM, 256-QAM
Management
Multiple BSSID
Supports 16 SSIDs (8 SSIDs per band)
VLAN Tagging
Supports 802.1q SSID-to-VLAN Tagging
Cross-Band VLAN Pass-Through
Management VLAN
QoS (Quality of Service)
Site Survey
PMK Caching
Band Steering
RSSI Threshold
Traffic Shaping
Auto-Transmit Power
Auto-Channel Selection
Save Configuration as Default
Complaint with IEEE 802.11e Standard
Distance Control (ACK Timeout)
CLI Support
Fast Roaming
Email Alerts
Guest Network
Wi-Fi Scheduler
RADIUS Accounting
Multicast Supported
Client Traffic Status
Power Save Mode (U-APSD Support)
SNMP
v1, v2c, v3
MIB
I/II, Private MIB
Wireless Security
SSH
HTTPS
Client Isolation
Hide SSID in Beacons
WEP Encryption 64/128/152 bit
Wireless STA (Client) Connected List
MAC Address Filtering, Up to 64 MACs per SSID
WPA/WPA2 Enterprise (WPA-EAP using TKIP or AES)
Environment & Physical
Temperature Range
Operating: -4°140°F/-20°C60°C
Storage: -22F°176°F/-40°C80°C
Humidity (non-condensing)
Operating: 90% or less
Storage: 90% or less
Weatherproof
IP67-Rated Enclosure
Dimensions & Weights
Weight: 0.65 lbs (295 g)
Length: 6.83" (173.6 mm)
Width: 4.37" (111.2 mm)
Height" 1.19" (30.29 mm)
Certifications
FCC, CE
Quick Comparison: ENH1350EXT vs. ENS620EXT
Both are Wi-Fi AP for outdoor installation, with similar technical specifications. Please see the difference below.
| | | |
| --- | --- | --- |
| | ENH1350EXT | ENS620EXT |
| Wi-Fi Standard | 802.11ac Wave2 | 802.11ac Wave2 |
| Radio | 2.4 GHz & 5GHz | 2.4 GHz & 5GHz |
| Max. Data Rates(2.4 Ghz) | 400 Mbps | 400 Mbps |
| Max. Data Rates(5 Ghz) | 867 Mbps | 867 Mbps |
| Radio Chains | 2 x 2:2 | 2 x 2:2 |
| Transmit Power (2.4 Ghz) | Up to 23 dBm | Up to 27 dBm |
| Transmit Power (5 GHz) | Up to 23 dBm | Up to 27 dBm |
| Antenna | 4 x 5 dBi Omni SMA-Type (Detachable) | 4 x 5 dBi Omni SMA-Type (Detachable) |
| Power-over-Ethernet | 802.3af/at | 24V Proprietary |
| Ethernet Ports | 1 x 10/100/1000 Ethernet Port | 2 x 10/100/1000 Ethernet Ports |
| Mounting Type | Pole / Wall | Pole / Wall |
| Dimensions | 111.2 x 173.6 x 30.29 mm | 191.6 x 114.3 x 47.7 mm |
| Mesh Technology | Yes | Yes |
| On-premises (ezMaster) | Yes | Yes |
| EnWiFi app | Yes | Yes |
What's In The Box
Package content includes the following:
1x ENH1350EXT Dual-Band AC1300 AP
2x 2.4GHz 5dbi SMA Antennas
2x 5GHz 5dbi SMA Antennas
1x PoE Adapter (EPA5006GR)
2x Pole Mounting Brackets
1x Wall-Mount Screw Set
1x Power Cord
Quick Installation Guide
Downloads
How & Where to Buy?
To buy the ENH1350EXT Dual-Band Outdoor Wireless Access Point, you can drop by (requires prior appointment) our store located at Novatel Communications, 12 Main St, Buttevant, Co. Cork, P51 K066, Ireland.
To order online, simply click on the Add to Cart button, and then go through the fast, easy, and secure checkout process. Payment is provided for your convenience via Authipay Payment Gateway. You can use any supported (MasterCard, Visa, American Express, Diners, etc).
How Will My Order Be Delivered?
Your order(s) will be shipped via express delivery and are normally delivered within 1-4 business days. Your order will be dispatched directly from our warehouse and you will be provided a piece of tracking information for your order after it is dispatched. If you have any questions about your order status, please contact us.