EnGenius EWS357AP - Managed Indoor 11ax Dual-band Wireless Access Point & Wi-Fi Extender For High-speed Broadband
Popular
Stock:

In Stock

Brand: EnGenius
Model:

EWS357AP

Weight:

0.60kg

Dimensions:

20.50cm x 8.30cm x 20.50cm

EAN:

4713361934667

MPN:

1102A1371301
The EWS357AP is a ceiling mountable dual-band 11ax indoor wireless AP, that belongs to EnGenius' EnSky (Equipped with Qualcomm's latest chipset) Series of Managed 802.11AX line of Access Point (AP). This device supports up to* 1200Mbps network speed in the 5GHz frequency band, while 574Mbps in the 2.4GHz frequency band.
Extend or share your existing high-speed broadband or Fiber Internet with this AX-enable networking device, and eliminate Wi-Fi dead spots in your home, office, or building. Also perfect for small to medium businesses, that require high-capacity and highly efficient wireless network access.
Read further on the full product technical specifications below, or download the PDF version from the download section below, to learn more.
NOTE: Comes with Factory Supplied EU Plugs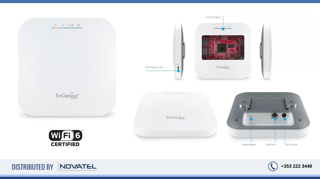 Technical Specification
Standards
IEEE 802.11ax on 2.4 Ghz
IEEE 802.11ax on 5 Ghz
Note: Backward compatible with 802.11b/g/n/ac
Processor
Qualcomm® Quad-Core CPU ARM Cortex A53s

@1.0GHz

Antenna
2 x 2.4 GHz: 3 dBi
2 x 5 GHz: 3 dBi
Physical Interface
1 x 10/100/1000 BASE-T, RJ-45 Gigabit Ethernet Port
1x DC Jack
1 x Reset Button
LED Indicators
1 x Power
1 x LAN
1 x 2.4 GHz
1 x 5 GHz
Power Source
Power-over-Ethernet: 802.3af Input
12VDC/1.5A Power Adapter (not included)
Maximum Power Consumption
12.5W
Wireless & Radio Specifications
Dual-Radio Concurrent 2.4 GHz & 5 GHz
Operation Modes
Managed mode: AP, AP Mesh, Mesh
Stand alone: AP, AP Mesh, Mesh
Operating Frequency
2.4 GHz: 2400 MHz ~ 2835 Mhz
5 GHz: 5150 MHz ~ 5250 MHz, 5250 MHz ~ 5350 Mhz, 5470 MHz ~ 5725 MHz, 5725 MHz ~ 5850 MHz
Note: Supported radios and channels will vary on the configured regulatory domain.
Transmit Power
Up to 20 dBm on 2.4 Ghz
Up to 20 dBm on 5 GHz
Note: Maximum power is limited by the regulatory domain
TX Beamforming (TxBF)
Supported
Radio Chains/Spatial Stream
2x2 MIMO
SU-MIMO
Two spatial streams SU-MIMO for 2.4GHz and two spatial streams SU-MIMO for 5GHz up to1774Mbps wireless data rate to a single 11ax wireless client device under both 2.4G Hz and5GHz radio
MU-MIMO
Two spatial streams Multiple (MU)-MIMO for up to 1200 Mbps wireless data rate to transmit to one device under 5GHz simultaneously.
Two Multiple MU-MIMO for up to 574 Mbps wireless data rate to transmit to one 2-streams MU-MIMO 2.4GHz simultaneously.
Supported Data Rates (Mbps)
802.11ax:
2.4 GHz: 9 to 287 (MCS0 to MCS11, NSS = 1 to 2)
5 GHz: 18 to 1200 (MCS0 to MSC11, NSS = 1 to 2)
802.11b: 1, 2, 5.5, 11
802.11a/g: 6, 9, 12, 18, 36, 48, 54
802.11n: 6.5 to 300 Mbps (MCS0 to MCS15)
802.11ac:
6.5 to 867 Mbps (MCS0 to MCS9, NSS = 1 to 2)
Supported Radio Technologies
802.11ax: Orthogonal Frequency Division Multiple Access (OFDMA)
802.11b: Direct-sequence spread-spectrum (DSSS)
802.11ac/a/g/n: Orthogonal Frequency Division Multiple (OFDM)
Channelization
802.11ax supports high efficiency (HE) – HE20/HE40/HE80 MHz
802.11ac supports very high throughput (VHT) – VHT 20/40/80 Mhz
802.11n supports high throughput (HT) – HT 20/40 Mhz
802.11n supports very high throughput under the2.4GHz radio –VHT40 MHz (256-QAM)
802.11n/ac/ax packet aggregation: A-MPDU, A-SPDU
Supported Modulation
802.11ax: BPSK, QPSK, 16-QAM, 64-QAM, 256- QAM, 1024-QAM
802.11ac: BPSK, QPSK, 16-QAM, 64-QAM, 256-QAM
802.11a/g/n: BPSK, QPSK, 16-QAM, 64-QAM
802.11b: BPSK, QPSK, CCK
Management Multiple BSSID
8 SSIDs for both 2.4GHz and 5GHz radios
VLAN Tagging
Supports 802.1q SSID-to-VLAN Tagging
Cross-Band VLAN Pass-Through
Management VLAN
Spanning Tree
Supports 802.1d Spanning Tree Protocol
QoS (Quality of Service)
Complaint With IEEE 802.11e Standard / WMM
SNMP
v1, v2c, v3
MIB
I/II, Private MIB
Management Features Deployment Options
Stand-Alone (Individually Managed)
Managed Mode (with EWS Series Switch/ezMaster)
Stand-Alone Management Features
Site Survey
Auto Reboot
E-Mail Alert
VLAN Per SSID
Auto Transmit Power
Wireless STA (Client)
PMK Caching (802.11i)
Auto Channel Selection
Band Steering per SSID
Captive Portal Per SSID
Backup/Restore Settings
Fast Roaming (802.11k & 802.11r)
Traffic Shaping per SSID/per user
Save Configuration as Users' Default
Pre-Authentication (802.11i, 802.11x)
Connected List Auto Channel Selection
Wireless Management Features
(With ezMaster & EWS Switch)
Map View
Email Alert
VLAN Per SSID
AP Traffic Log
Floor Plan View
Wi-Fi Scheduler
Schedule reboot
One-Click Update
Kick/Ban Clients
Auto AP Rebooting
AP Client Limiting
AP VLAN Management
AP Group Management
Multi-Tenant Account
Visual Topology View
AP Auto IP Assignment
PMK Caching (802.11i)
Client Fingerprinting
AP Device Name Editing
Band Steering Per SSID
Captive Portal Per SSID
Intelligent Diagnostics
Wireless Coverage Display
Wireless Client Monitoring
Local MAC Address Database
Access Point Status Monitoring
Real-Time Throughput Monitoring
AP Auto Discovery & Provisioning
Fast Roaming (802.11k & 802.11r)
Bulk Firmware Upgrade Capability
Wireless Traffic & Usage Statistics
Unified Configuration Import/Export
Remote MAC Address Database (RADIUS)
Traffic Shaping Per SSID and Per User
Pre-Authentication (802.11i, 802.11x)
Fast Roaming (802.11v), By default, enabled
Secure Control Messaging (SSL Certificate)
Wireless Security
WPA3
SSH Tunnel
Client Isolation
Hide SSID in Beacons
WPA2 Enterprise (AES)
Wireless STA (Client) Connected List
MAC Address Filtering, Up to 32 MACs per SSID
Environment & Physical Temperature Range
Operating: 0°C~40°C
Storage: -30°C~80°C
Humidity (non-condensing)
Operating: 90% or less
Storage: 90% or less
Product Dimensions & Weights
Dimensions: 160 x 160 x 33.2 mm
Weight: TBA
Retail Packaging
Dimensions: 205 x 205 x 83 mm
Weight: 0.58Kg
Certifications
FCC: Subpart 15 B, Subpart C 15.247, Subpart E 15.407
CE: EN 300 328, EN 301 893, EN 301 489-1/-17, EN 50385, EN 55032, EN 55035, EN 60950-1, EN 62368-1
RED 2014/53/EU
Low Voltage Directive 2014/30/EU
CB: IEC 60950-1/IEC 62368-1
What's In The Box
Package content includes the following:
1x EWS357AP AP Unit
1x Ceiling Mount Base (9/16" T-rail)
1x Ceiling Mount Base (15/16" T-rail)
1x Ceiling and Wall Mount Screw Kits
1x Quick Installation Guide
How & Where to Buy?
To buy the EWS357AP Indoor Wireless Access Point, you can drop by (requires prior appointment) our store located at Novatel Communications, 12 Main St, Buttevant, Co. Cork, P51 K066, Ireland.
To order online, simply click on the Add to Cart button, and then go through the fast, easy, and secure checkout process. Payment is provided for your convenience via Authipay Payment Gateway. You can use any supported (MasterCard, Visa, American Express, Diners, etc).
How Will My Order Be Delivered?
Your order(s) will be shipped via express delivery and are normally delivered within 1-4 business days. Your order will be dispatched directly from our warehouse and you will be provided a piece of tracking information for your order after it is dispatched. If you have any questions about your order status, please contact us.