StellaDoradus Combiner-6 (aka LTE-Combiner8): Signal Amplifier for Routers / Modems
Guaranteed Irish
NCL is proud to offer the Stella Doradus Signal Repeater (ComReg Approved and Easy to Set Up). Not only are we 100% Irish (Manufactured in Waterford), but our repeaters come with a 3-year warranty.
Stock:

In Stock

Brand: StellaDoradus
Model:

Combiner-6

Weight:

2.00kg

Dimensions:

35.00cm x 30.00cm x 3.50cm

MPN:

Combiner-6
Supported Frequencies: 800 / 900 / 1800 / 2100 / 2600Mhz
It doesn't matter whether you operate a single cell tower or a large network. The LTE-Combiner8 is professional-grade equipment that does exactly what it's made for – boosting your signal. Never before has signal amplification been so easy to install!
StellaDoradus LTE-Combiner8 is the perfect signal amplifier for weak signal areas across any enterprise-class service provider network. This unit can be easily compounded with LTE/4G/3G/GSM devices and works as an effective signal booster.
With the aforementioned information in mind, this device can also be used to bring signals into basements or other spaces with high insulation levels, as well as areas with dead spots and perhaps even weak signals. Even the strongest signals, however, require assistance to reach their destination. That's where the LTE-Combiner8 comes in, boosting any carrier's incoming cell signal and amplifying it across up to eight devices.
Main Purpose
Direct-attached Signal Amplifier for 4G LTE/3G/ Routers and GSM devices.
Main Distinction From Other Combiner
This particular model of combiner has LEDs on them, but no LCD screen.
Use Cases
You've been searching for a way to boost your router signal reception, and now you've found it. This gadget is the answer to your prayers. It will amplify your signal and make your internet faster, smoother, and more reliable. No more buffering, lagging, or dropping out. Just pure, uninterrupted online bliss. This gadget is the ultimate signal booster for your router.
It works well for these scenarios:
Amplify Signals for 4G LTE (also 3G/GSM) Routers/Modems in Ships, Multi-story Building, Offices
Boost the 4G LTE Router's Signal when operating indoors like inside of a basement, thick-walled, rooms, etc.
Quick Overview of the Combiner Setup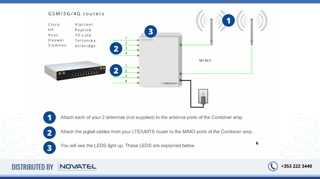 Technical Specifications
Model Number
LTE-Combiner8
Frequency Supported
800 / 900 / 1800 / 2100 / 2600Mhz
Frequency Specifications
Frequency Bands (Mhz)
791 - 862MHz
880 - 960MHz
1710 - 1880MHz
1920 - 2170MHz
2500 - 2690MHz
Gain
Uplink Gp > 12dB
Downlink Gp > 14dB
Pass Band Ripple
< 2dB
I/O Impedance
50 Ohm / N connector
Max Uplink/Downlink Signal Strength
Multiple Radio Cards: 24dBm / -25dBm
Single Radio Card: 27dBm / -25dBm
Ambient Temperature
-30 °C to +40 °C
Power Supply Input
110 - 240V AC
Power Supply Output
9-30VDC / 5A
Max Power Consumption
32W
Oscillation Control
Automatic
Level Control
Automatic*
Uplink Switch Off
Yes**
AGC Range
30db
Power Supply Specifications
AC
100-240V
50-60Hz
DC Input
9-30V
5A, single radio card, 7A multiple radio cards
Max Power Usage
72-84W max
Mechanical Specifications
Length
35cm
Width
30cm
Depth
3.5cm
Weight
2Kg
Mounting
6 x 5mm holes for mounting
Radome Materials
HDG Steel
NOTE 1 *: Automatically adjusts during installation. Thereafter, automatically adjusts for seasonal variation in path loss between the Base station and Outdoor Antenna.
NOTE 2 **: The uplink amplifiers switch off when the repeater is not in use, thus reducing the uplink noise to almost zero. When
the repeater is in use (eg phone call being made), the uplink amplifier switches on for the duration of the call, and a blue, and a LED switches on indicating this is the case.
NOTE 3a: The amplifier includes; AGC on uplink and downlink.
NOTE 3b: Amplifier automatically shuts down when no up-link signal is present. This reduces heat generation.
NOTE 4: Specifications are subject to change without notice.
How and Where to Buy
You can order the StellaDoradus LTE-Combiner8 online using Add to Cart button. Then go through the checkout page to process your order. You can pay securely using your Credit Card via our secured payment gateway page. Your payment shall be processed via AIB Authipay.
You could also drop by and buy from our physical store located at Novatel Communications, Main Street, Buttevant, Co. Cork, Ireland.
How Will My Order Be Delivered?
Your order(s) will be shipped via express delivery and are typically delivered within 1-4 business days. Your order will be dispatched directly from our warehouse and you will be provided a piece of tracking information for your order after it is dispatched. If you have any questions about your order status, please contact us.