StellaDoradus Outdoor Parabolic Laser Antenna For Mobile Signal Repeater
You might think that the more mobile network mast in the area, the better. When in fact it is exactly the opposite. The more mast, the more noise, and the performance of your StellaDoradus repeater will degrade.
The SD Parabolic Laser antenna solves this problem.
How It Works
This antenna can laser target your chosen mobile operator's mast (thanks to its narrow beam width of about 10 degrees), and can amplify the weak signal from across town with less noise from other towers (attenuating all the other unwanted signals from other masts/towers).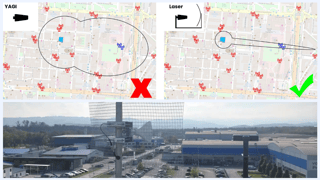 Technical Specification
Antenna Specifications
Frequency Band (MHz)
800, 900, 1800, 2100, 2600
Gain
14dBi at 900Mhz and 21dBi at 2100Mhz
Beamwidth
30deg at 900Mhz and 15deg at 2100Mhz
Parabolic Grid Dimensions
Length
91cm
Width
91cm
Weight
3.7kg
Windage (at 216 kmph)
476N
Mounting Pole
< 10cm Pole
Feed Horn Dimensions
Length
52cm
Width
71cm
Weight
0.7kg
Connector
N-Female
How & Where to Buy?
No more dropped calls or bad reception, with the remarkable new Laser antenna from StellaDoradus! Order now!
To buy the SD Parabolic Antenna, you can drop by (requires prior appointment) our store located at Novatel Communications, Main St, Buttevant, Co. Cork, P51 K066, Ireland.
To order online, simply click on the Add to Cart button, and then go through the fast, easy, and secure checkout process. Payment is provided for your convenience via Authipay Payment Gateway. You can use any supported cards (MasterCard, Visa, etc).
How Will My Order Be Delivered?
Your order(s) will be shipped via express delivery and are typically delivered within 1-4 business days. Your order will be dispatched directly from our warehouse and you will be provided a piece of tracking information for your order after it is dispatched. If you have any questions about your order status, please contact us.