Poynting EPNT-4 Outdoor Omnirectional Antenna, and a Router/Modem Enclosure - Main
Stock:

In Stock

Brand: Poynting
Model:

A-EPNT-0004-V1

Weight:

2.21kg

Dimensions:

40.50cm x 28.00cm x 20.00cm

MPN:

A-EPNT-0004-V1
Upgrade your router or networking device w/ the ePoynt-4 (also called EPNT-4) antenna enclosure. It is designed to fit a variety of router & networking modules. You can transform your 4G or 5G routers into a CPE (Customer Premises Equipment) device, thanks to its unique design that makes it an attractive element on your house, company, or yacht. It looks great and provides a unique Internet access experience.
The EPNT-4 includes up to four cross-polarized cellular antennas, which are cross-polarized, making it ideal for 4x4 MIMO (ideal for 5G Routers or Gateways) or dual 2x2 MIMO routers. The 4x4 MIMO delivers enhanced performance in built-up areas where several base stations are close by, but higher stability and throughput are required.
It's easy to set up, just plug in your new router or networking device, and you're ready to go!
---
This EPNT has its older siblings, the EPNT-1 and EPNT-2. Please click on their links, they might interest you or could be suitable for your specific application.
Quick Tech Specs
617MHz - 4200 MHz
2x2 MIMO Wi-Fi
1x GPS Glonass
3dBi Maximum Gain
Router compartment
2x2 & 4x4 MIMO Cross Polarized 4G & 5G
Benefits You'll Get From the EPNT-4
Reduced signal loss due to long cable run from the antenna to router/gateway
Higher throughput
A cleaner and awesome looking Installation (Quick & Easy installation)
4x4 MIMO for improved equipment performance/throughput
Ultra-wideband as it covers 617 to 7200 MHz. This includes:

LTE/5G bands from 617 to 4200 MHz
Band 71 from 617 to 698 MHz
CBRS Band from 3.5 to 4.2 GHz
Dual-Band Wi-Fi antennas for 2.4 GHz and 5 to 7.2 GHz

Exceptional performance across the whole band, excellent for carrier aggregation
Future-proof 5G antenna enclosure ideal for Fixed Wireless Broadband Access installations
EPNT-4 Features
Cross-polarised for optimal performance
Global coverage for all relevant frequencies
Serves not only 4G or 5G routers but modems and modules
Versatile Mounting Options; Wall, Pole, and Table-top mount
Excellent radiation patterns (a must for high-performing antennas)
Install / Mount / Deploy cellular routers/gateways outdoors (IP67 Rated)
YouTube Video Presentation
EPNT-4 Full Technical Specification
CELLULAR: ELECTRICAL SPECIFICATIONS
Frequency Bands
617-960 MHz
1427-1517 MHz
1710-2700 MHz
Gain (Max)
1 dBi @ 617-960 MHz
2 dBi @ 1427-1517 MHz
3 dBi @ 1710-2700 MHz
0 dBi @ 3400-4200 MHz
VSWR
<3:1
Feed Power Handling
10 W
Input Impedance
50 Ohm (nominal)
Polarisation
Cell 1: ±45°Cross Polarised
Cell 2: ±45°Cross Polarised
WI-FI: ELECTRICAL SPECIFICATIONS
Frequency
2400-2500 MHz
5000-7200 MHz
Gain (Max)
2.2 dBi @ 2400-2500 MHz
5 dBi @ 5000-7200 MHz
VSWR
<2.5:1 over 90% of the band
Feed Power Handling
10 W
Nominal Input Impedance
50 Ohm (nominal)
Polarisation
Wi-Fi (Main): Vertical & Horizontal Cross Polarised
Wi-Fi (Aux): ±45° Cross Polarised
MECHANICAL ELECTRICAL SPECIFICATIONS
Product Dimensions
351 mm x 238 mm x 182 mm
Maximum Router Dimensions
140 mm x 120 mm x 50 mm
Packaged Dimensions
405 mm x 280 mm x 200 mm
Radome Material
UV Stable ASA
Radome Colour
Brilliant White
Pantone P 179-1C
Mounting Type
Wall, or Pole, or Surface Mounted
ENVIRONMENTAL SPECIFICATIONS / CERTIFICATIONS & APPROVAL
Antenna Wind Survival
≤220 km/h
Included Bracket Wind Survival
≤190 km/h
Optional Bracket/Surface Mount Wind Survival
≤220 km/h
Temperature Range (Operating)
-40°C to +80°C
Environmental Conditions
Outdoor/Indoor
Ingress Protection
IP67
Salt Spray
MIL-STD 810 / ASTM B-117
Operating Relative Humidity
Up to 98%
Storage Humidity
5% to 95% - non-condensing
Storage Temperature
-40°C to +80°C
Enclosure Flammability Rating
UL 94-HB
Impact Resistance
IK10
Product Safety & Environmental
Complies with CE and RoHS standards
NOTE: *Routers/Router boards have their own operating temperatures as provided in their individual data sheets. Routers/router boards mounted within an EPNT-4 which is exposed to solar radiation will operate at 10-12°C above ambient temperature. Please take this into consideration and select your device to be used with the EPNT-4 accordingly.
Tech Specs Table UPDATED:
Downloads
Antenna Variants
A-EPNT-0004-V1-15
A-EPNT-0004-V1-17
Ports
Ports 1 & 2: LTE
Ports 3 & 4: Wi-Fi
Port 5: GPS
Ports 1, 2, 3 & 4: LTE
Ports 5 & 6: Wi-Fi
Port 7: GPS
SISO / MIMO
2x2 MIMO: LTE
2x2 MIMO: Wi-Fi
4x4 MIMO: LTE
2x2 MIMO: Wi-Fi
Coax Cable Type
RTK-031 - LTE, Wi-Fi & GPS
RTK-031 - LTE, Wi-Fi & GPS
Coax Cable Length
150 mm - LTE, Wi-Fi & GPS
150 mm - LTE, Wi-Fi & GPS
Connector Type
RA SMA (M) - LTE, Wi-Fi & GPS
RA SMA (M) - LTE, Wi-Fi & GPS
Weight
1.175 kg
1.19 kg
Packaged Weight
2.19 kg
2.21 kg
EAN
6009710924853
6009710924877
NOTE: *The coax cables & connectors are factory-mounted to the antenna.
Technical Drawings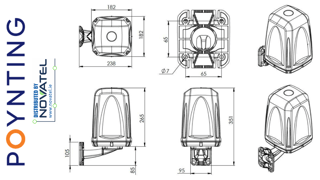 Router/Gateway Mounting Dimensions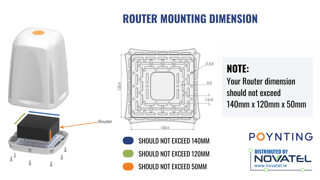 How & Where to Buy?
To buy the Poynting EPNT-4 Outdoor 5G Antenna, you can drop by (requires prior appointment) our store located at Novatel Communications, Main St, Buttevant, Co. Cork, P51 K066, Ireland.
To order online, simply click the Add to Cart button, and then go through the fast, easy, and secure checkout process. Payment is provided for your convenience via Authipay Payment Gateway. You can use any supported cards (MasterCard, Visa, etc).
How Will My Order Be Delivered?
Your order(s) will be shipped via express delivery and are typically delivered within 1-4 business days. Your order will be dispatched directly from our warehouse and you will be provided a piece of tracking information for your order after it is dispatched. If you have any questions about your order status, please don't hesitate to contact us.
---