Teltonika TSW100: Unmanaged Industrial PoE+ 4-port Switch
Stock:

In Stock

Brand: Teltonika Networks
Model:

TSW100

Weight:

770.00g

Dimensions:

148.00mm x 173.00mm x 71.00mm

MPN:

TSW100
The Best Unmanaged Gigabit Ethernet Switch with PoE is the Teltonika TSW100. Are you seeking for an easy, affordable, and dependable way to connect and power your network devices? Look no further than Teltonika Networks' TSW100 Gigabit Ethernet switch. For a variety of applications, this unmanaged switch provides great performance, plug-and-play functionality, and PoE capability.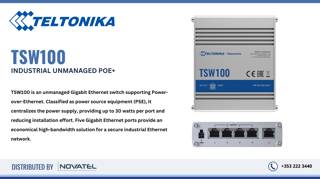 Features
The following features are included with the TSW100 switch:
Unmanaged Configuration: The switch does not require configuration or setup. Simply connect your devices, and you'll have stable, quick network connectivity.
Gigabit Ethernet Support: The switch supports 10/100/1000 Mbps data rates, ensuring that your network devices have excellent bandwidth and data transfer speeds.
Power-over-Ethernet (PoE) Capability: The switch can deliver up to 30 watts of power per port to your PoE-enabled devices, such as cameras, access points, or sensors. This eliminates the need for separate power adapters or cables, reducing costs and space requirements.
PSE Classification: The switch can automatically detect the power requirements of your PoE devices and adjust the power output accordingly. This prevents overloading or damaging your devices and optimizes the power consumption of the switch.
Centralized Power Supply: The switch can be powered by a single 48 V DC input, which can be connected to a standard power outlet or a backup battery. This ensures uninterrupted operation of your network devices in case of power outages or fluctuations.
Five Gigabit Ethernet Ports: The switch has five RJ45 ports that can connect up to five network devices. Each port has an LED indicator that shows the link status and activity.
Benefits
By using the TSW100 switch, you can enjoy the following benefits:
Simplified Installation And Maintenance: The switch is easy to install and maintain. You don't need any special tools or skills to set up the switch. Just mount it on a wall or a DIN rail, connect your devices, and you're good to go. The switch also has a rugged metal casing that protects it from dust, moisture, and shock.
Reduced Costs And Space Requirements: The switch saves you money and space by eliminating the need for separate power adapters or cables for your PoE devices. You can also use existing Ethernet cables to connect your devices, avoiding the hassle of installing new wiring.
High Bandwidth And Data Transfer Rates: The switch supports Gigabit Ethernet speeds, ensuring fast and smooth data transmission for your network devices. You can stream high-quality video, audio, or data without any lag or interruption.
Reliable And Secure Network Connectivity: The switch provides stable and secure network connectivity for your devices. You don't have to worry about network congestion, interference, or hacking. The switch also has a built-in surge protection that protects it from power surges or spikes.
Versatile And Customizable Network Design: The switch can be used for various network scenarios and applications. You can mix and match different types of devices, such as cameras, access points, or sensors. You can also expand your network by connecting multiple switches together.
Use cases
The TSW100 switch can be applied effectively in various real-world scenarios, such as:
CCTV Installation In Remote Or Hard-To-Reach Locations: You can use the switch to power and connect your CCTV cameras in places where there is no power outlet or wiring available. You can also monitor your cameras remotely via the Internet.
Industrial Automation And Control Systems: You can use the switch to power and connect your industrial devices, such as PLCs, sensors, or actuators. You can also control your devices remotely via the Internet or a local network.
Digital Signage And Multimedia Displays: You can use the switch to power and connect your digital signage or multimedia displays, such as TVs, monitors, or projectors. You can also stream high-quality content to your displays via the Internet or a local network.
Networked Security And Access Control Systems: You can use the switch to power and connect your security or access control devices, such as locks, alarms, or readers. You can also manage your devices remotely via the Internet or a local network.
Internet of Things (IoT) Devices And Sensors: You can use the switch to power and connect your IoT devices or sensors, such as temperature, humidity, or motion sensors. You can also collect and analyze data from your devices via the Internet or a local network.
Technical Specification
ETHERNET
LAN
5 x LAN ports, 10/100/1000 Mbps, compliance with IEEE 802.3, IEEE 802.3u, 802.3az standards, supports auto MDI/MDIX crossover
POE
PoE ports
Budget (at PSE)
PoE standards
802.3af and 802.3at
PoE Max Power per Port (at PSE)
30 W
Total PoE Power Budget (at PSE)
120 W
PERFORMANCE SPECIFICATIONS
Bandwidth (Non-blocking)
10 Gbps
Packet buffer
128 KB
MAC address table size
2K entries
POWER
Connector
4 pin industrial DC power socket
Input voltage range
7-57 VDC
Input voltage range 44-57 VDC for PoE
44-57 VDC
Power consumption (idle/max no PoE/max)
2 W/9 W/129 W
PHYSICAL INTERFACES (PORTS, LEDS)
Ethernet
5 x RJ45 ports, 10/100/1000 Mbps
Status LED's
1 x Power LED, 10 x LAN status LED's
Power
1 x 4 pin DC connector
Ground
1 x Grounding screw
PHYSICAL SPECIFICATION
Casing material
Full aluminum housing
Dimensions (W x H x D)
115 x 32 x 95 mm
Mounting
DIN rail or wall mounting (additional kit needed), flat surface placement
OPERATING ENVIRONMENT
Operating temperature
-40 °C to +75 °C
Operating humidity
10 % to 90 % non condensing
MOUNTING OPTIONS
DIN RAIL KIT
Parameter
Value
Mounting standard
35mm DIN Rail
Material
Low carbon steel
Weight
57g
Screws included
Philips Pan Head screw #6-32×3/16, 2pcs
Dimensions
82 mm x 46 mm x 20 mm
RoHS Compliant
Yes
DIN RAIL KIT
DIN Rail adapter


Philips Pan Head screw #6-32×3/16, 2pcs for RUT2xx/RUT9xx


How & Where to Buy?
To buy the Teltonika TSW100 PoE+ Switch, you can drop by (requires prior appointment) our store located at Novatel Communications Main St, Buttevant, Co. Cork, P51 K066, Ireland.
To order online, simply click on the Add to Cart button, and then go through the fast, easy and secure checkout process. Payment is provided for your convenience via Authipay Payment Gateway. You can use any supported cards (MasterCard, Visa, etc).
How Will My Order Be Delivered?
Your order(s) will be shipped via express delivery and are typically delivered within 1-4 business days. Your order will be dispatched directly from our warehouse and you will be provided a tracking information for your order, after it is dispatched. If you have any questions on your order status, please contact us.
Looking for an 8-port Switch?
You can check out the TSW200 8-port PoE Switch.