TP-Link CPE210 2.4GHz 300Mbps 9dBi Outdoor CPE Wireless Bridge
New
Stock:

In Stock

Brand: TP-Link
Model:

CPE210

Weight:

500.00g

Dimensions:

224.00mm x 79.00mm x 60.00mm

MPN:

CPE210
Get lightning-fast, reliable, and long-range Wi-Fi with the TP-Link CPE 210 2.4GHz 300Mbps 9dBi Outdoor CPE!
Are you tired of slow and unreliable Wi-Fi connections? Do you need to extend your Wi-Fi coverage to remote areas or connect outdoor security cameras? Look no further than the TP-Link CPE210! With its superior speed, range, and reliability, this outdoor CPE is the perfect solution for all your Wi-Fi needs.
Equipped with high-gain antennas and a weatherproof design, this wireless bridge device provides unparalleled coverage and stability, even in harsh weather conditions. Its easy installation process means you can set it up in minutes, without the need for any additional accessories or complicated wiring.
But that's not all - this CPE210 can be used for a variety of applications, such as extending Wi-Fi coverage to remote areas, connecting outdoor security cameras, and more. With its advanced features and technical specifications, you can trust that the CPE210 will deliver the performance you need when you need it.
Don't settle for slow and unreliable Wi-Fi - upgrade to the CPE210 and experience lightning-fast, reliable, and long-range Wi-Fi like never before! Order yours today and enjoy the benefits of superior Wi-Fi coverage and stability.
Quick Features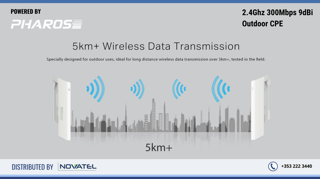 Centralized Management System – Pharos Control
Adjustable transmission power from 0 to 27dBm/500mw
Built-in 9dBi 2x2 dual-polarized directional MIMO antenna
AP / Client / AP Router / AP Client Router (WISP) operation modes
System-level optimizations for more than 5km long range wireless transmission
A passive PoE Adapter supports up to 60 meters (200 feet) of Power over Ethernet deployment and allows the device to be reset remotely
TP-LINK Pharos MAXtream TDMA (Time-Division-Multiple-Access) technology improves product performance in throughput, capacity, and latency performance, ideal for PTMP applications
More about TP-Link PharOS
PharOS by TP-Link is a centralized management platform for wireless broadband network devices. It allows users to easily monitor and manage unlimited Pharos products, such as CPEs, WBSs and base stations, from any connected PC within the network. Some features of PharOS by TP-Link are:
Batch management: Users can configure and manage multiple devices simultaneously, saving time and resources
Google map integration: Users can view the real-time network topology and device status on a constantly-updated Google map, which helps with accuracy and expansion.
Browser/server architecture: Users can access the platform through the web browser of any PC, without installing client software. The server supports Windows and Linux systems
Alert notification: Users can receive alarm emails when devices experience interruption or disconnection from the central station, enabling timely maintenance and troubleshooting
CPE210 Technical Specifications
HARDWARE FEATURES
Processor
Qualcomm Atheros 560MHz CPU, MIPS 74Kc
Memory
64MB DDR2 RAM, 8MB Flash
Interface
1 10/100Mbps Shielded Ethernet Port (LAN0,Passive PoE in)
1 Grounding Terminal
1 Reset Button
Power Supply
Passive Power over Ethernet via LAN0 (+4,5pins; -7,8pins)
Voltage range: 16-27VDC
Power Consumption
5 Watts Max
Note: When deployed using Passive PoE, the power drawn from the power source will be higher by some amount depending on the length of the connecting cable.
Dimensions (W x D x H)
224 x 79 x 60 mm
Antenna Type
Built-in 9dBi 2x2 Dual-polarized Directional Antenna
Beam Width: 65° (H-Plane) / 40° (E-Plane)
Note: For more details, please refer to the datasheet
Protection
15KV ESD Protection
6KV Lightning Protection
Enclosure
Outdoor ASA-stabilized plastic material
IPX5 waterproof Certification
WIRELESS FEATURES
Wireless Standards
IEEE 802.11b/g/n (with Pharos MAXtream disabled)
Proprietary Protocol
TDMA Mode (with Pharos MAXtream enabled)
Wireless Speeds
Up to 300Mbps (40MHz,Dynamic)
Up to 144.4Mbps (20MHz,Dynamic)
Up to 72.2Mbps (10MHz,Dynamic)
Up to 36.1Mbps (5MHz,Dynamic)
Frequency
2.4~2.483GHz
Note: Available operating frequency may vary depending on the limitations of the countries or regions in which the device is used.
Transmission Power
25dBm/316mw (Adjustable power by 1dBm)
Note: Maximum transmission power may vary across different channels depending on the limitations of the countries or regions in which the device is used.
SOFTWARE FEATURES
Wireless Configurations
Pharos MAXtream TDMA Technology
802.11b/g/n Modes
Selectable Channel Width: 5/10/20/40MHz
Automatic Channel Selection
Transmission Power Control
Dynamic Frequency Selection (DFS)
WDS Enable/Disable
SSID Broadcast Enable/Disable
Multi-SSID with VLAN Tagging (AP mode only)
Distance/ACK Timeout Setting
Wireless MAC Address Filter
Wireless Security: WPA/WPA2, WPA-PSK/WPA2-PSK (AES/TKIP) Encryption, 64/128/152-bit WEP Encryption
Wireless Advanced: Beacon Interval/RTS Threshold/Fragmentation, Threshold/DTIM Interval/AP Isolation/Short GI/Wi-Fi Multimedia
Management
Discovery and Remote Management via Pharos Control application
HTTP/HTTPS Web-based management
System Log
SNMP Agent(v2c)
Ping Watch Dog
Dynamic DDNS
SSH Server
System Tools
Wireless Signal Quality Indicators:
Signal Strength/Noise/Transmit CCQ/CPU/Memory
Monitors: Throughput/Stations/Interfaces/ARP/Routes/WAN/DHCP
Spectrum Analyzer
Speed Test
Ping
Traceroute
System-level Optimizations
Optimized IGMP Snooping/Proxy for multicast applications
Hardware watchdog
POE ADAPTER FEATURES
Dimensions(W x D x H)
110 x 57 x 33.5mm
Interfaces
1 AC Jack with Earth Ground
1 10/100Mbps Shielded Ethernet Port (Power + Data)
1 10/100Mbps Shielded Ethernet Port (Data)
Button
Remote Reset Button
Power Status LEDs
Green
Input
100-240VAC, 50/60Hz
Output
24VDC, 0.25A Max
+4, 5pins; -7, 8pins. (Support up to 60m Power over Ethernet)
Efficiency
>80%
Certifications
CE/FCC/UL/IC/GS/PSB/C-tick/SAA/S-Mark/KC-mark
OTHERS
Certification
CE, FCC, RoHS, IPX5
Package Contents
Outdoor Wireless CPE
24V 0.25A Passive PoE Adapter
Pole Mounting Straps
AC Power Cord
Installation Guide
System Requirements
Microsoft Windows 98SE, NT, 2000, XP, Vista™ or Windows 10, Windows 8, Windows 7, MAC OS, NetWare, UNIX or Linux.
Note: We recommend you use one of the following Web browsers for an improved user experience: Google Chrome, Safari, and Firefox. IE browsers are not recommended.
Environment
Operating Temperature: -40°C~70°C (-40℉~158℉)
Storage Temperature: -40°C~70°C (-40℉~158℉)
Operating Humidity: 10%~90% non-condensing
Storage Humidity: 5%~95% non-condensing
Wireless Bridge FAQs: Your Top 10 Questions Answered
For connecting distant devices to a network and expanding network coverage, wireless bridges are a common method. Many users, however, are unclear about how they operate and how to put them up. In order to help you make the most of this technology, we've included answers to the top 10 enquiries about wireless bridges in this FAQ.
What is a wireless bridge, and how does it work?

A wireless bridge is a device that connects two or more networks wirelessly, allowing them to communicate with each other. It works by receiving wireless signals from one network and transmitting them to another, effectively extending the network coverage.

What are the benefits of using a wireless bridge?

The main benefits of using a wireless bridge include:

Extending network coverage to remote areas
Connecting devices that are too far away from the main network
Reducing the need for additional wiring or infrastructure
Improving network performance and reliability

What are the different types of wireless bridges?

There are two main types of wireless bridges:

Point-to-point (PTP) bridges, connect two networks directly
Point-to-multipoint (PTMP) bridges, which connect multiple networks to a central hub

What are the key features to look for in a wireless bridge?

When choosing a wireless bridge, look for the following features:

High-speed data transfer rates
Long-range coverage
Multiple operating modes (e.g., bridge, access point, repeater)
Easy setup and configuration
Secure encryption protocols

How do I set up a wireless bridge?

To set up a wireless bridge, follow these steps:

Connect the bridge to your network using an Ethernet cable
Access the bridge's web-based configuration interface
Configure the bridge's settings, such as the network name and encryption type
Connect the bridge to the remote network using a wireless connection

Can I use a wireless bridge to connect different types of networks?

Yes, a wireless bridge can connect different types of networks, such as a wired network and a wireless network.

How far can a wireless bridge transmit signals?

The range of a wireless bridge depends on several factors, such as the type of bridge, the frequency band, and the environmental conditions. However, most wireless bridges can transmit signals up to several miles in ideal conditions.

Do I need to have a clear line of sight between the two networks to use a wireless bridge?

In general, a clear line of sight between the two networks is ideal for optimal performance. However, some wireless bridges can work without a clear line of sight by using directional antennas or signal amplifiers.

Can I use a wireless bridge to connect to the internet?

Yes, a wireless bridge can be used to connect to the internet by connecting one network to a router or modem that has an internet connection.

How do I troubleshoot issues with my wireless bridge?

If you're experiencing issues with your wireless bridge, try the following troubleshooting steps:

Check the network settings and configuration
Make sure the bridge is connected to the correct networks
Reset the bridge to its default settings and reconfigure it
Check for interference from other wireless devices or networks
Conclusion: We hope this FAQ has answered your questions about wireless bridges and helped you understand how to use them effectively. If you have any additional questions or feedback, please don't hesitate to contact us.
How & Where to Buy?
To buy the TP-Link CPE210 Wireless Bridge, you can drop by (requires prior appointment) our store located at Novatel Communications, Main St, Buttevant, Co. Cork, P51 K066, Ireland.
To order online, simply click on the Add to Cart button, and then go through the fast, easy, and secure checkout process. Payment is provided for your convenience via Authipay Payment Gateway. You can use any supported cards (MasterCard, Visa, etc).
How Will My Order Be Delivered?
Your order(s) will be shipped via express delivery and are typically delivered within 1-4 business days. Your order will be dispatched directly from our warehouse and you will be provided a piece of tracking information for your order after it is dispatched. If you have any questions about your order status, please contact us.