Poynting EPNT Outdoor Panel Antenna & Waterproof Router/Modem Enclosure In One Single Unit - Main
Hot
Stock:

In Stock

Brand: Poynting
Model:

EPNT-XX

Weight:

2.17kg

Dimensions:

45.00cm x 27.00cm x 18.00cm

EAN:

EPNT-XX

MPN:

EPNT-XX
The Samrand-based antenna manufacturer has launched another series of quality cellular antenna called ePoynt Series, it is a 5dBi omnidirectional (the EPNT-1) 4×4 MIMO 4G/5G outdoor panel antenna and a router/modem enclosure, that you can use to amplify signal reception for 4G LTE or 5G. Also works as a Wi-Fi antenna. The EPNT-2 variant on the other hand is a directional antenna, which is ideal for long-distance cellular connection.
It is a uniquely designed outdoor and all-weather cellular antenna kit, equipped with cross-polarized omnidirectional antennas, supporting 4x4 MIMO or dual 2x2 MIMO antenna configuration, which significantly improves signal reception from 4G or 5G network mast from any direction.
This specific model is also capable of supporting dual-band Wi-Fi signal enhancement, and able to operate under 2.4 and 5-6 GHz frequency ranges, very ideal for industrial use as well as for home use. It can provide better network coverage to densely populated, huge outdoor areas, and other industrial applications.
Key Features
Function as Modem/Modem Weather-proof box, that lets you mount or install your cellular router or modem outdoors (able to accept routers like Teltonika RUT240 or RUT360, devices with up to 185x145x45mm dimension)
Cross-Polarised, High-performance Antennas
All-weather, dust and vandal-resistant housing (IP 65)
Frequency Range: 617-3800 MHz (for 2G, 3G, 4G, 5G, WiFi)
2x2 MIMO Dual-band 2.4 GHz and 5GHz Wi-Fi Antennas
4x4 MIMO 4G/5G antenna
Use Case
Internet and Network Distribution and Backhaul
Outdoor antenna for Fixed Wireless Access (FWA)
Urban and rural household reception enhancement
Industrial and commercial 5G/LTE deployment
Point-to-Point Wireless Network Bridge
Consumer 5G/LTE internet connectivity
SmartHome and SmartCity Network Build
Oil & Gas communication systems
EPNT-1 vs. EPNT-2
EPNT-1
EPNT-2
Frequency Bands
617-960 MHz
1427-2700 MHz
3400-3800 MHz
617-960 MHz
1427-2700 MHz
3400-3800 MHz
Network
5G / 4G LTE
2.4-2.5GHZ / 5.0-7.2GHZ WIFI
5G / 4G LTE
2.4-2.5GHZ / 5.0-7.2GHZ WIFI
MIMO
4x4 for 5G & 4G LTE
2x2 for 2.4Ghz & 5GHz Wi-Fi
4x4 for 5G & 4G LTE
2x2 for 2.4Ghz & 5GHz Wi-Fi
Peak Gain
5dBi on the 5G & 4G LTE
7.5dBi on the Wi-Fi
11dBi on the 5G & 4G LTE
7.5dBi on the Wi-Fi
Directionality
Omnidirectional
Unidirectional
Downloads
Technical Drawings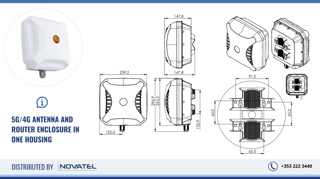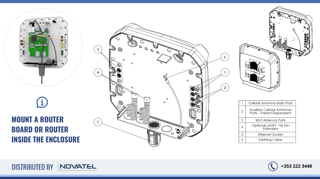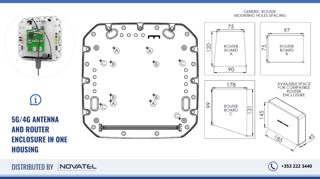 Shipping Details
| | |
| --- | --- |
| SKU | A-EPNT-0001-V1-01 |
| EAN | 6009710922521 |
| HS Code | #85291069 |
| Packaged Weight | 2.17kg |
| Packaged Dimensions | 410 x 280 x 177 mm |
| Master Box QTY | 6 |
| Master Box Weight | 14.68kg |
| Master Box Dimensions | 1125 x 430 x 330 mm |
Where To Buy?
You can order the Poynting ePoynt Antenna online using Add to Cart button. Then go through the checkout page and process your order. You can pay securely using your Credit Card via our secure page, powered by Stripe Payment Gateway or AIB Authipay Gateway.
You could also drop by and buy from our physical store located at Novatel Communications, Main Street, Buttevant, Co. Cork P51 K066.
How Will My Order Be Delivered?
Your order(s) will be shipped via express delivery and are normally delivered within 1-4 business days, for local shipping, and 7-14 days for International shipping. Your order will be dispatched directly from our warehouse and you will be provided a piece of tracking information for your order after it is dispatched. If you have any questions about your order status, don't hesitate to get in touch with us.