Poynting XPOL-24: 11dBi 4x4-MIMO 5G/4GLTE Unidirectional Outdoor Panel Antenna - Main
Stock:

In Stock

Brand: Poynting
Model:

XPOL-24

Weight:

4.38kg

Dimensions:

51.00cm x 42.00cm x 12.00cm

MPN:

A-XPOL-0024
Another high-quality outdoor antenna from the Samrand-based company, Poynting! Meet the XPOL-24, an iteration of the XPOL-2 series of antennas, but this time, with emphasis on 5G connectivity, and cellular technology. It supports 4×4 MIMO 5G/LTE frequency bands for exceptional performance, reliable fixed wireless Internet connection, and high data throughput.
Not only does the XPOL-24 offer exceptional performance in a wide range of frequency bands, but it's also one of the most compact antennas on the market. This makes it perfect for applications where space is at a premium, such as cellular base stations, 5G/LTE hotspots, self-mounted roof-mounted poles, chimneys, wall-mounted brackets, etc. because it doesn't require any additional mounting hardware, you can use it right out of the box and get immediately up and running with your new antenna. Take note though, that you may need to mount your antenna up high as possible on your roof, where the signal is really weak or near zero.
Supported Frequency bands
The XPOL-24 antenna performs exceptionally well in the following frequency bands:
617 - 960 MHz (Band 71: 617-698 MHz)
1710 - 2170 MHz
2300 - 2700 MHz
3400 - 4200 MHz
With that said above, the XPOL-24 is a high-performance, wideband antenna that can be deployed to provide the best possible reception and throughput over multiple frequency bands simultaneously (Carrier Aggregation or CA support - The RUTX50, and another Teltonkia has this feature). This makes it an ideal solution for current and future 5G/LTE antenna deployments.
Notable Features
Wideband 4x4 MIMO 5G/LTE antenna from 617 to 4200 MHz
Four cross-polarised antennas within a single enclosure
New advanced metamaterial technology for high performance
Exceptional high-performance antenna over main 5G/LTE bands
Weather, dust, and vandal-resistant enclosure with IP65 rating
Applications Areas
The application areas where you can deploy the XPOL-24, are not limited to the following:
Retail POS / Kiosk
Oil & Gas communication systems
Consumer LTE/5G internet connectivity
Power, Energy & Water telemetry access
Industrial & Commercial LTE/5G deployments
Repeaters & coverage enhancement amplifiers
Outdoor antenna for Fixed Wireless Broadband
Urban and rural household reception enhancement
Remote CCTV Surveillance, and Security Operations
Agricultural (livestock data tagging, SenseHUB device), and Farming LTE/5G data distribution
Technical Specification
The XPOL-24's full technical specification table.
ELECTRICAL SPECIFICATION
Frequency Bands
617 - 960 MHz
1710 - 2700 MHz
3400 - 4200 MHz
Gain (Max)
8.5 dBi @ 617 - 960 MHz
8.5 dBi @ 1710 - 2700 MHz
11 dBi @ 3400 - 4200 MHz
VSWR
<2:1
Feed Power Handling
10 W
Input Impedance
50 Ohm (nominal)
Polarisation
Cell 1: Vertical & Horizontal
Cell 2: ±45°




Coax Cable Loss:
0.385 dB/m @ 900 MHz
0.565 dB/m @ 1800 MHz
0.666 dB/m @ 2400 MHz
0.788 dB/m @ 3000 MHz
DC Short
Yes
ELECTRICAL SPECIFICATION
Product Dimensions
290 mm x 444 mm x 110 mm (Excl. bracket)
Radome Material
UV Stable ASA
Radome Colour
Brilliant White
Pantone P 179-1C
Mounting Type
Pole and wall mounted
ENVIRONMENTAL SPECIFICATIONS, CERTIFICATION, AND APPROVAL
Wind Survival
≤160 km/h
Temperature Range (Operating)
-40°C to +80°C
Environmental Conditions
Outdoor/Indoor
Water Ingress Protection Ratio/Standard
IP65
Salt Spray
MIL-STD 810G/ASTM B117
Operating Relative Humidity
Up to 98%
Storage Humidity
5% to 95% - non-condensing
Storage Temperature
-40°C to +80°C
Enclosure Flammability Rating:
UL 94-HB
Impact Resistance
IK08
Product Safety & Environmental
Complies with CE and RoHS standards
PRODUCT BOX CONTENT
Antenna
The A-XPOL-0024-V1 Antenna Model
Mounting Bracket
Pole and wall mount bracket (BRKT-062)
Technical Drawings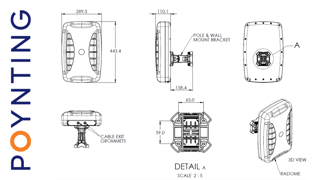 Product Options
| | | |
| --- | --- | --- |
| SKU | A-XPOL-0024-V1-01 | A-XPOL-0024-V1-02 |
| COAX Cable Type | Twin HDF-195 | N/A |
| COAX Cable Length | 5m | N/A |
| Color | White | White |
Shipping Details
SKU
A-XPOL-0024-V1-01
A-XPOL-0024-V1-02
EAN
6009710024693
6009710925003
HS Code
#85291069
#85291069
Packaged Weight
4.38kg
9.66lbs
Packaged Dimensions
508 x 419 x120 mm
20 x 16.50 x 4.72 inch
508 x 419 x120 mm
20 x 16.50 x 4.72 inch
Master Box QTY
3
3
Master Box Weight
14.45kg
31.86lbs
Master Box Dimensions
530 x 450 x 430 mm
20.87 x 17.72 x 16.93 inch
530 x 450 x 430 mm
20.87 x 17.72 x 16.93 inch
Country of Origin
CN
CN
How & Where to Buy?
To buy the Poynting XPOL-24 5G Outdoor Antenna, you can drop by (requires prior appointment) our store located at Novatel Communications, Main St, Buttevant, Co. Cork, P51 K066, Ireland.
To order online, simply click on the Add to Cart button, and then go through the fast, easy, and secure checkout process. Payment is provided for your convenience via Authipay Payment Gateway. You can use any supported cards (MasterCard, Visa, etc).
How Will My Order Be Delivered?
Your order(s) will be shipped via express delivery and are normally delivered within 1-4 business days. Your order will be dispatched directly from our warehouse and you will be provided a piece of tracking information for your order after it is dispatched. If you have any questions about your order status, please contact us.