Poynting XPOL-2 4G: LTE Outdoor Panel Directional Antenna - Improves Signal Reception for Modems/Routers [EOL]
The XPOL-2 is a cross polarized outdoor MIMO antenna for 4G/LTE, 3G, and GSM. It's a multi-in-one signal receiver for; LTE, GSM 900/1800, and 2.4GHz Wi-Fi, and it is backward compatible with 3G and 2G technologies. This model is a two-antenna system, it is cross-polarized and housed in one all-weather proof enclosure, which makes it ideal for all-purpose rural or urban deployment, and helps to achieve reliable/optimal performance. Highly recommended for 4G/LTE signal boosting for any network operator in Ireland, the UK, and Europe.
The XPOL-2 should enhance your signal reception and increase connection stability (you may contact us for any enquiries).
This directional panel antenna (some people call it Aerial) can be used on any cellular modems, IoT devices, low-cost routers, and other customer premise equipment, that either has a double SMA port or TS-9 port (needs SMA/TS9 adapter). See compatible models below for reference.
Compatible Cellular & Mobile Routers/Modems
Huawei B593 or Speedport II, B315, B525, B535, B593
…and a lot more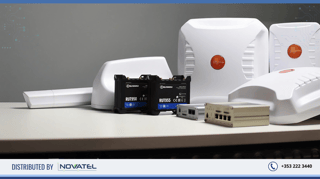 Reference Image: Works with any 4G LTE Modem/Router (Gateway) with Dual SM or TS-9 Port (like the Netgear Nighthawk M1 or Huawei B818, B528, B628).
The XPOL-2 is one of the most recommended LTE antenna system in various Irish, UK and South African broadband forum sites. It is known to work well with known router brands like Huawei, Tenda, TP-Link, Peplink, Teltonika, Celerway, EnGenius, and a lot more.
When connecting the antenna, it will be detected as two external antennas when checking on the CPE's Administration Dashboard.
Please refer to the image below.
Reference Image: Huawei Detects The Poyting XPOL-2 Antenna As External
You can use this antenna with the following Irish Network Operators, or any network operators UK, EU and the rest of the world:
O2
Three
Meteor
mobile
Tesco Mobile
Vodafone (Formerly Eircell)
Why Choose Poynting Antenna?
You get what you pay for
Factory supplied with high-quality, low-loss coaxial cable
5-7 meter cables included with some products (directional antennas, not omnis)
DC-short built into the antenna system (forces antenna detection and also helps with vicinity lightning strikes)
Features
All weather-proof and Light-weight
Passively boosts signal reception for 4G, 3G, 2G, and GSM applications
9dBi cross-polarised high-gain directional antenna for routers or signal repeaters
Significantly improves signal reliability, and provides a stable and high-quality wireless connection
Window or pole mountable; easy to setup for quick fixed broadband connection needs; great for mobile pos and kiosks
Ideal for rural application, where network operator mast is too far from you current location, great for long distance and line-of-sight network connection
Application Areas
Urban and rural areas
Unstable cellular connection
Slow data transmission connection areas
Increase system transmission reliability
Poor data signal reception (indoor or outdoor)
LTE fringe areas (close to an LTE area, but just out of reach)
Network operator flexibility - as the antenna is wide band, a new antenna is not needed per network operator.
Technical Specification
Gain (Max)
9 dBi Max Gain
Polarisation
0° and 90°
Feed Power Handling
10 W
Nominal Input Impedance
50 Ohm (nominal)
Dimensions (l x w x d)
255 x 255 x 80 mm (without bracket)
Mounting
Wall or pole mount
Weight
1,55 kg
Mounting Bracket
up to 60mm poles
Connector
2 x SMA male
Cable Loss
0.35 dB/m
Material
ABS (halogen free)
Color
Pantone – Cool Gray (1C)
RAL 7047
Flammability Rating
UL 94-V0
Environmental Conditions
Outdoor/Indoor
Operating Temperature
-40 to +70°C
RoHS
Compliant
VSWR
< 2.5:1
Water Ingress Rating
IP 65 (NEMA 4X)
Antenna: A-XPOL-0002-V2
Mounting Bracket: 1 x Z-shaped mounting bracket, suitable for wall or pole mount installation
Cable Length: 5m ±5%
Cable Type: Black twin siamese HDF 195
Connector: 2X SMA (Male, Gold plated). NOTE: The cables and connectors are factory mounted to the antenna.
Ordering Information
| | |
| --- | --- |
| SKU | A-XPOL-0002-V2 |
| EAN | 6009693810051 |
| HS Code | #85291069 |
| Packaged Weight | 1.98kg |
| Packaged Dimensions | 375 x 267 x 98 mm |
| Master Box QTY | 10 |
| Master Box Weight | 20.56kg |
| Master Box Dimensions | 550 x 390 x 500mm |
Where To Buy XPOL-2?
You can order the Poynting XPOL-2 4G LTE Outdoor Antenna online using Add to Cart button. Then go through the checkout page and process your order. You can pay securely using your Credit Card via our secure page, powered by Stripe Payment Gateway or AIB Authipay Gateway.
You could also drop by and buy from our physical store located at Novatel Communications, 12 Main Street, Buttevant, Co. Cork P51 K066.
How Will My Order Be Delivered?
Your order(s) will be shipped via express delivery and are normally delivered within 1-4 business days, for local shipping, and 7-14 days for International shipping. Your order will be dispatched directly from our warehouse and you will be provided a tracking information for your order, after it is dispatched. If you have any questions about your order status, please contact us.