Teltonika Powering Option BAT120 – Uninterruptible Power Supply BAT120
Are you looking for a reliable and versatile battery solution for your Teltonika routers? Do you want to ensure uninterrupted connectivity and performance in any situation? If so, you need the Teltonika BAT120, the smart battery pack that powers your routers for hours.
The Teltonika BAT120 is a rechargeable lithium-ion battery that provides backup power for your Teltonika routers in case of power outage, unstable power supply, or remote deployment. It is compatible with most Teltonika routers, such as RUT240, RUT950, RUT955, RUTX08, RUTX09, RUTX10, RUTX11, and more. It is designed for users who need reliable and continuous internet access for their business or personal needs.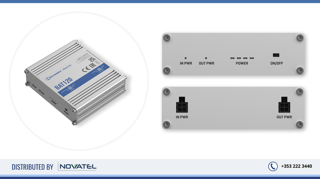 Key Features
The Teltonika BAT120 has the following features that make it an ideal battery solution for your routers:
High capacity: Capacity of 2600 mAh / 17 Wh, which can power your routers for longer hours, depending on the router model and usage.

Smart charging: Has a built-in microcontroller that monitors and controls the charging and discharging process. It protects the battery from overcharging, overdischarging, overcurrent, short circuit, and temperature fluctuations. It also displays the battery status and level on the LED indicators.

Easy installation: The Teltonika BAT120 is easy to install and use. You just need to connect it to your router with the included cable and turn on the switch. The battery will automatically start supplying power to your router when the main power source is unavailable or unstable.

Compact and portable: Compact and lightweight design that makes it easy to carry and store. It measures 100 x 30 x 85 mm and weighs only 315g. It has a durable aluminum casing that protects it from dust and water.
Benefits
By using the Teltonika BAT120, you can enjoy the following benefits:
Uninterrupted connectivity: The Teltonika BAT120 ensures that your routers stay online and connected in any situation. You can avoid losing data, productivity, or communication due to power failure or instability. You can also use your routers in remote locations where power supply is not available or reliable.

Extend Lifespan: It can extend the lifespan of your routers by preventing damage caused by power surges or fluctuations.

Peace of mind: The Teltonika BAT120 gives you peace of mind knowing that your routers are always powered and protected. You don't have to worry about missing important emails, calls, or messages due to power outages or interruptions. You can also monitor the battery status and level on the LED indicators.
Compatible Products
Complete list of compatible Teltonika Products.
How & Where to Buy?
If you are ready to experience the benefits and features of the Teltonika BAT120, don't wait any longer. Order your battery pack today and enjoy uninterrupted connectivity and performance with your Teltonika routers.
To buy the Teltonika BAT120 UPS, you can drop by (requires prior appointment) our store located at Novatel Communications, Main St, Buttevant, Co. Cork, P51 K066, Ireland.
To order online, simply click on the Add to Cart button, and then go through the fast, easy, and secure checkout process. Payment is provided for your convenience via Authipay Payment Gateway. You can use any supported cards (MasterCard, Visa, etc).
How Will My Order Be Delivered?
Your order(s) will be shipped via express delivery and are typically delivered within 1-4 business days. Your order will be dispatched directly from our warehouse and you will be provided a piece of tracking information for your order after it is dispatched. If you have any questions about your order status, please contact us.